Cabinet Confliction - Input Sought
I can use your help and feedback, please.
I am just about done demo'ing the kitchen in a home recently purchased. My wife and I found some cabinets we both like, and while on the dark side ("American Cherry"), we are convinced that we can get away with that because of the abundance of natural light. Good news.
However, as seen in the video clip below, the adjacent living area has rather large cabinets, I believe oak, that roll around in the kitchen's dining area.
While I realize these are two different rooms, this would generally not present a problem for most folks. But since the these cabinets encroach upon the kitchen / dining area, I wonder if this will look bad or strange to have such dissimilar woods rather close to each other.
Thoughts, please? Maybe safer to go with white cabs and get color from the countertop? We really like these cabs, but realize that the kitchen is not in a vacuum so-to-speak, and it would seem prudent to look at the larger picture...
I will also try to attach a showroom photo of the cabinets. Sorry about it being upside down!
I really appreciate the help. Thank you.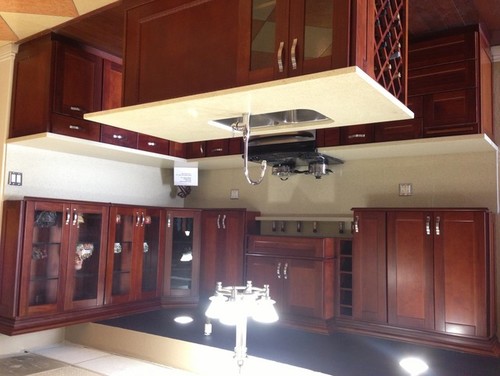 Here is a link that might be useful: Video of kitchen area