My butcher block prep island
So my space was small but I wanted a lot. I wanted a sink in this spot, not a huge sink, but one that could handle a disposer, or light dishwashing. I have a Kohler Stages 45 across from it, which is one single basin. Ideal for everything except filling with cold water to defrost a chicken.
Then I found the Franke Beaches sink and got this idea. I found a way to maximize my working area and still have the bigger sink when I want it.
Yes, my cabinet guy made the counter top to my specs, and hats off for being able to use the sink cut out for an actual cutting board.
So it functions like this. The hole opposite the sink is not only a handle to lift out the board, but the "scrap chute" to the sink below which has a disposer. The little sink has a "screw in bowl" that houses either a solid bowl or a strainer. I can just leave this strainer in at all times as it makes a great dumping spot for pasta, or cleaning spot for strawberries, etc etc.
I put the sink to the left because I wanted two drawers in the uppers and got them. My whole Henkels collection is in one, and three sets of measuring cups are in the other.
Yes I oil the h*&% out of this to keep it from warping as water and wood are really tricky.
I'll post more pics of the drawers later so you can see how its setup. I'll also include this in the final Kitchen Stadium reveal that I'm not giving out until its ready, so be patient.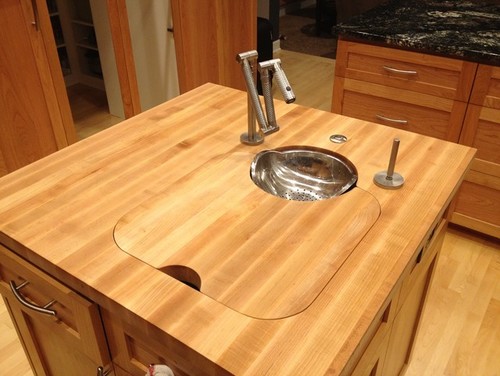 This post was edited by will2kz on Tue, Jun 4, 13 at 8:45