Superwhite Quartzite Island and Pietra Counters Installed (pics)
sparklekitty
June 26, 2010
We just had the counters installed. I really appreciate when others post photos of their kitchens in progress. It has been very helpful to hear about the experiences and decision making process, so I will share mine. But first the photos (sorry they are dark - the island is not nearly as gray/dark in person.)
View of kitchen from dining room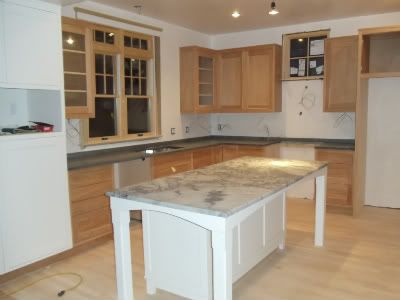 Best photo I have of island (now covered with plywood as contractors continue work on the rest of the house)
As you enter the kitchen from the foyer
I am one of the many who love marble but knew my DH didn't want and I didn't feel strongly enough to push it through (though I have done that on many other things :) so super white was recommended by a friend. After visiting several stone distributors & fabricators, my husband fell in love with an unusual slab of super white (or is it Supreme, they all called it something different) quartzite that had high contrast that I had not seen previously in super white. I love the gray softness of the Pietra against the red birch and as a backdrop for the super white so we had a plan.
I figured the SW slab was polished so the island would be. I took the path of least resistance, or so I thought. Of course the counters showed up & the island was honed. I tried to check it out in the truck but could not see much so convinced the installers to lug in the slab (86' x 41' !) and place it on the island (after much deliberation and annoyance that I had to re-make a decision I had made only because I was never really committed to the original decision.)
But surprise - white quartzite is a real treat honed. It softened the somewhat intense contrast and had the added bonus of random shiny pieces of quartz that don't really hone and didn't stand out when the stone was polished (not shiny like mica flecks but small chunks.) Honing actually highlighted the beauty of the stone in my opinion. Thankfully there was a previous GW post that mentioned this (that I found in my decision making frenzy) and motivated me to have them lug it out of the truck in the first place.
So I will post better photos when I have them, but thought those considering white quartzite might benefit from my photos & story.
So now I just have to choose my back splash (see link below) - I did choose my paint (BM Revere Pewter & window trim in BM White Dove to let the wood be the feature.) Any additional thoughts on BS would be appreciated (and no I am not going with the blue tile I was fooling around with in the link below - just too much I think :)
Here is a link that might be useful: Previous backsplash post