Kelleg, Erikanh, Postiano, Pbrisjar, Help : (
Ladies,
I am crying about the floors. I am so very sad. I did not
want a 70s style interior brown floor. A ski lodge from
the Brady Bunch. Ugly! And I am angry at myself for being
such a big baby about this.
The floor guys stained them a mix of English Chestnut and
Mahogany. Which I picked. The floor guys keep telling me
they will get darker. It has been all day and I do not
see them getting darker. Maybe when they put the final
satin finish?
The worst part is the first thing I said when I saw the
floors was, "Oh, we will need to go darker."
The guy said right back.
"Oh you don't want to go darker, it will ruin the look of
the wood. You won't like it."
I don't give a fig about the wood, I want darker floors.
I have a look I am trying to go for and I feel like they
are not working with me. I want a rich warm brown that
looks elegant not like a stained barn.
What do I do? What do you think? Is this going to
look better or worse?
Gosh, I am worn out over this nightmare. I feel like the
owner of this company is more concerned about what people
will say when they see the floors (His work) then about
making the customer happy. They are thrilled with the way
the oak floors look natural. They hated the mahogany stain
saying this is not a natural color for oak. I am so
frustrated.
Thanks for letting me vent. I am being a big baby about
this. There are people in this world hungry, homeless,
jobless and suffering and I am crying about the floors. I
wanted an elegant look and it seems more like a dowdy
barn to me.
Maybe I am just overreacting to the floors. Perhaps
after a good night sleep I can visualize them better.
Trying to be optimistic but feeling sad.
~boxerpups :(
My inspiration pics.. Along with your own floors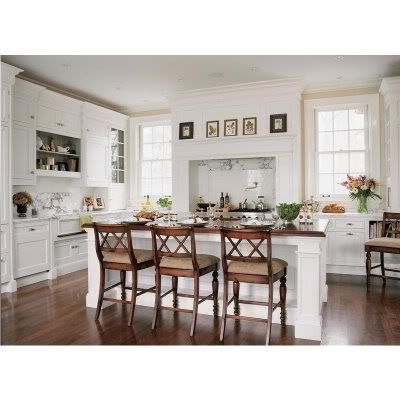 Not my inspiration but I would be happy with this
a little lighter brown but it might be okay.
Here is a link that might be useful: Oak floors what color did you stain? Hurry