Please help me achieve this (new) look...
So my last thread just got too long and confusing. Here's my situation: my cabinets should go into production in a few weeks and I'm majorly second-guessing the entire look of my kitchen for our new build Georgian house (we hope it's somewhat historic looking). The kitchen will be seen from our great/family room, which is going to be rather formal. I'm thinking looking at a sea of cabinets is not the best thing. Here are the things in our kitchen which we cannot change: montclair danby marble honed for all counters and island, stained french casement window above farmhouse sink, door on range hall to mud room, door on sink wall near eat in area into keeping room, opening into family room on wall opposite range, fridge/freezer on wall opposite sink.
what I like about the following pictures is the simplicity and elegance of the designs, the lack of a "Sea of cabinetry", the fact that these look like old and historic, and they don't look like I went to a kitchen designer and let them design it all at once.
i'm desperate for advice on how to do this, what to add, eliminate, or change from my plan, what do do for a range wall back splash (i'm thinking no back splash on sink wall), and how to achieve this look with two fixtures set to hang above island and one above kitchen table (advice on style would be fantastic).
http://www.plainenglishdesign.co.uk/spitalfields-3
what i have designed now: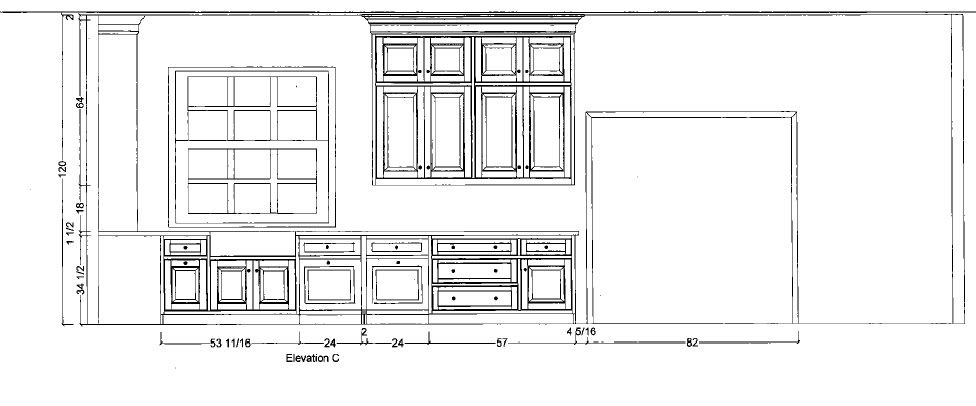 drawing i just did for range wall:
island and hutch
Here is a link that might be useful: english kitchen