Kitchen plans. We would love some feedback
We are designing a new kitchen and would love some feedback. We have a young family, do a fair amount of cooking, no microwaving, and the kitchen is located directly at the front door in our small home (wall C). We have a back door and boot room area, so although we use the front door frequently, we store all our boots, coats and sports equip by the back door. Our proposed island would stick into the dining room, which is open concept to a living room at 90 degrees (on the other side of the hallway past some closed stairs). We have nice exposed brick on our chimney on the sides facing the island and the dining room. I have to admit, we are presently pretty messy kitchen people, although hopefully with places to put things we will improve.
I have attached a sketch that my husband made in word of our idea for a layout. The plumbing is presently located beside the proposed location of the fridge, and the dishwasher is in the proposed fridge location. My husband thinks he can put a new drain either under the window (as depicted) or in the island. He would prefer to only do it once (for both the sink and dishwasher).
If you have any suggestions on appliance location, or general kitchen layout and design, we would greatly appreciate them!
Thanks!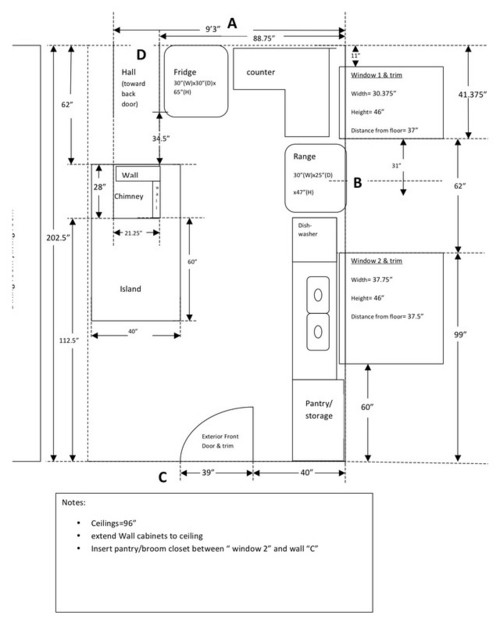 This post was edited by jenottawa on Fri, Jun 7, 13 at 21:45