DING!! Round Two. Kitchen in beach house, help improve layout
(note: links & pictures open in new windows)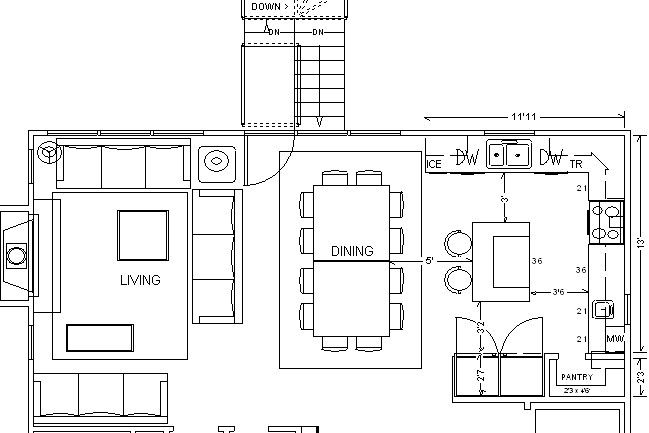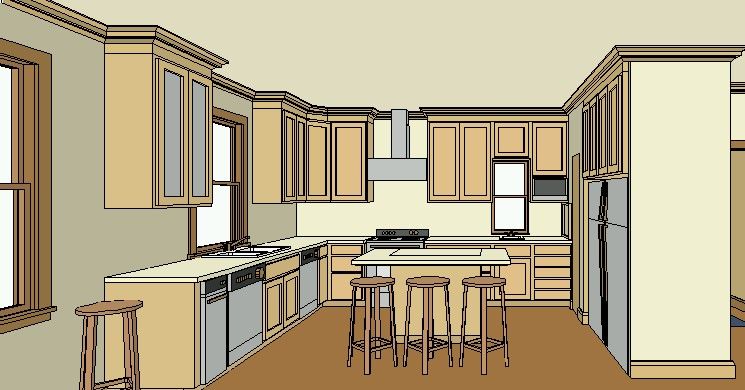 Some of you "know" me. I've been hanging around GW for almost 10 years now.
Almost 3 years ago our longtime dream came true and we were able to start construction on a second home/vacation rental home(link) at the beach. We rent it whenever we can, and we stay there sometimes when it is not rented, usually on the weekends during the winter. Most of the time doing work on the house, haha.
It was completed in time for summer rentals to start in 2011, so we are now starting our 3rd rental season. Rentals have been fabulous and (for the most part) our guests have been awesome. We won't talk about the renter who poured shampoo(what!!) in the hot tub, or the one whose kids dumped buckets of sand in the hot tub, or the guest whose grandson was horsing around and pulled the curved glass shower door off the track and shattered it into a zillion pieces. A glass door that now cannot be replaced because the mfg has stopped making that model of shower. (No children were harmed in this incident) Or the myriad of other small and some not as small things that have gone wrong or broken. We have learned a lot.
After all of our hard work, we could not believe this dream came true. Now, we have the opportunity to build again, going in partner with my father. We just started our preliminary house designs about 2 weeks ago. And we are just as excited, like a kid in a candy store, as we were last time. Whooooo !!!
This new home will be a rental home, with guests typically there for 1 week at a time during June July August, with some additional rentals during spring and fall. This home will sleep 20+ (up to 28 including pullout sofas, trundle beds, and toddler mattresses). The kitchen will need to accomodate a lot of different types of rental groups and sizes ... small groups and large groups, families with multiple generations & kids, adults only/couples groups, all men (golfers), maybe weddings or church groups, etc. And occasionally just my Dad or just DH & me.
We need to include 2 fridges and 2 dishwashers because of the need for it for groups this size. We also plan to have a Whirlpool double oven range(link), which we have at our other house and it works out great.

We use the top oven more than anything
Bottom oven was large enough for the Thanksgiving turkey with no problem !!
Most likely, I will not be able to make any changes to the walls of the kitchen on this plan or the size of the kitchen. Windows can be moved.
Aisles shown are counter edge to counter edge assuming 2" overhang on 24" base cabinets. The current plan as shown includes two 30" wide recessed top freezer/fridges, a "step in" pantry, 14-15" deep upper cabinets, 42-45" tall upper cabinets (9ft ceilings), double oven range, empty space in the lower blind corner between the trash pullout and range.
The one level island is shown as 41"x56" which includes 24x36 cabinet with 10" overhang on each side, 15" on back side, and allows for 2" counter overhang on front side. The side overhangs are to allow a stool to be pulled around to each side for additional seating when needed. Stools stored elsewhere when not in use (as shown to left side of kitchen in pic above : ). Dining tables can be pulled apart to seat 4 additional when needed.
Please help with suggestions on our kitchen design !!!!
note: For those interested, this is the link to our original kitchen thread for the house we already built. Fair warning: it is a looong thread. This kitchen & the whole upstairs is SO much better than it would have been without the generous help of many many Gardenweb TKO's. Everytime we are at the house, I think of you & thank you all. http://ths.gardenweb.com/forums/load/kitchbath/msg102315435043.html
(edited for typos & a couple forgotten details)
This post was edited by angela12345 on Wed, Jun 26, 13 at 14:01