Mudroom cabinet design help (sorry OT)
Hi all. I haven't posted for some time. For those that don't know me, I GC'd a whole house reno with extensive help from GW beginning about 4 years ago. One of the best things we did with the house is to add on a small mudroom space at the garage door, our family entrance. The space is very small, but we didn't have any storage/mudroom space in our old house configuration so even this little bit is a blessing. I wish I had the space for 3x as much storage as this.
The time has finally come to get our custom mudroom cabs from our cabinet maker. I've been waiting for this since we moved back into the house 2.5 years ago! I've never seen any mudroom cabs IRL to know how they function, nor do I know anyone with cabs to seek advice. I hope it's OK to ask here.
Important info: We are a family of 4. Our 2 children are entering 3rd grade and pre-K in the fall. The "room" measures 52" wide by 5' long. I love straight, clean lines. Love them. Here are some photos of the space. The door leads to the garage, the family entrance/exit from the house. You can see the dining table in the foreground.
From a distance the area looks like this (excuse the cardboard mantle mock-up and party-prep mess). Dining room is behind the fireplace. The laundry room is behind the closed pocket door.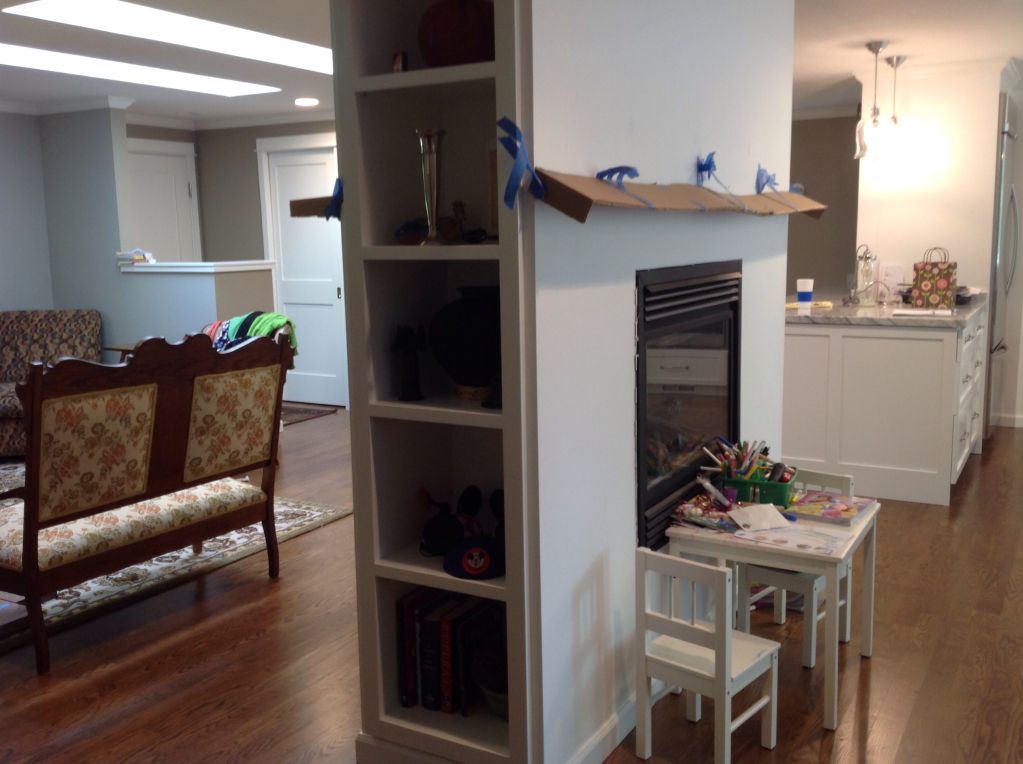 My kitchen is on the other side of the dining room you see. Old shot.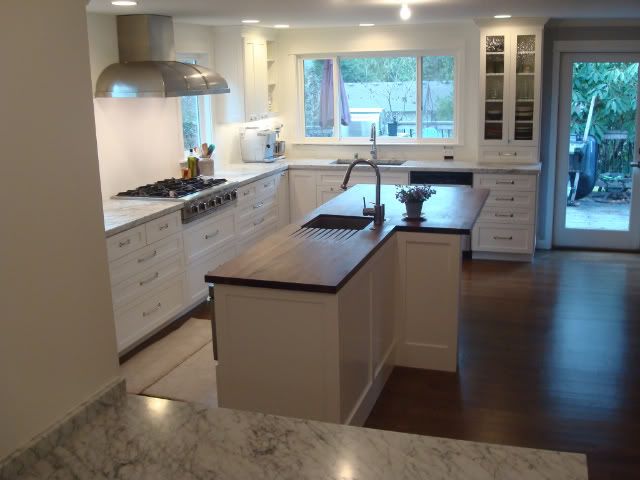 I'd like the mudroom to function as storage for:
1. shoes
2. backpacks (only 1 child currently uses backpack, but the other will in a year)
3. my purse
4. coats and my scarves (hooks will also be across from this drawing on the laundry room wall)
5. hats and gloves
6. incoming mail
7. incoming/outgoing dump spot (small items that need to go back and forth from house to car)
I drew up my ideas about 3 years ago. From my drawing and our discussions, my cab maker sent me this rendering. I'd like to get your thoughts on it. Shoes go in the three shelves under bench. Hats, gloves, etc go in baskets on the bottom right. Backpacks go in tall cubbies above baskets. DH and I will use the coat hooks shown here for coats, scarves, sweaters, and my purse. The kids will each have a row of coat hooks appropriate for their height across from this (noted as 18" opp wall) on the laundry room wall. The unit will be made from QS oak and stained the same color as the floor.
My questions:
1. Will this storage space meet my specified storage needs? Anything I should do differently or consider?
2. The tapered legs. My cab maker drew this on his own accord. I think it's just aesthetic. Nothing else in my house has tapered legs. Does this look funny? I would prefer straight lines.
3. The bench seat and top cap of the cubby area seem to sit proud of the surrounding cabs and seem to have an overhang. Again, these weren't discussed. I think he drew it in to look more built-in or custom. I think they look nice, but will they get banged up in my very small space?
Thank you so much for any help!