Annie Sloan Chalk paint?? Help me de-ugly my kitchen!
We bought this kitchen a year ago knowing that in 3-5 years we would be gutting it to the studs. I thought I could live with the red cabinet doors--turns out, I can't!
The cabinets are the original 70's cabinets so the doors are just flat. The previous owners painted the cabinets white and the doors IU Crimson. Red is my least favorite color!
I've thought about painting the doors white but I can't imagine how much mess and work it would be to sand the red a bit, prime (multiple times?) and paint (at least 2 coats). I've got lots of things to paint in this ugly house and I don't want to spend too much time on something that will be going in a dumpster in a few years.
Someone told me that Annie Sloan chalk paint would not require any sanding and not as many coats of paint. Is that correct? Will their white cover red without looking pink??
My other thought was to paint the doors a different color (a darkish gray probably) and leaving the cabinets white. Will that just continue looking crazy? I can't find any pictures online of cabinets and doors in two colors so maybe that is just not done??
I'd love some guidance!
Updated to add photo, I hope. Well, sideways is better than nothing!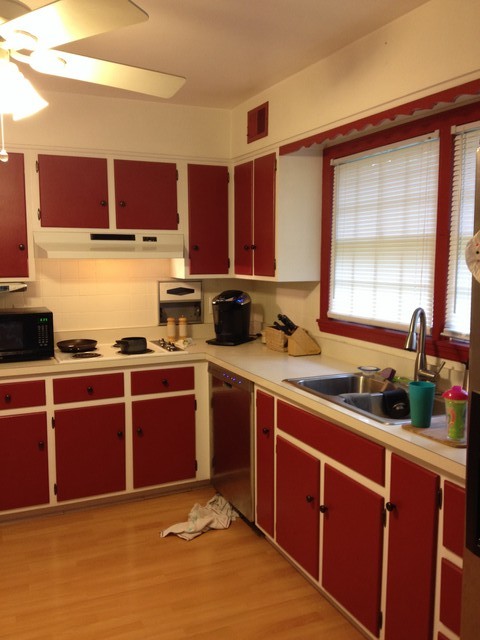 This post was edited by MommyD76 on Sun, Jun 29, 14 at 19:45