Quick question on pantry & island designs...signing off tomrw!
Dilemma 1 - REF surround cabinetry
The 2nd picture shows a 24" wide 12" deep tall pantry cabinet next to my CD refrigerator facing out.
I am just torn on the single doors shown or if I should split it down the middle into double doors. I know 24" is typically split into 2 12" doors. But visually I liked the drawing better when it shows a single door. I'm having inset cabinets, so I'm not sure exactly how wide a single door ends up being, but I'm sure its not a full 24". Opinions?
Dilemma 2 - Island
I designed this little island myself with some advice from you guys here, I think it was live wire oak that suggested this open on 3 sides configuration for me...
I will ask the cabinet shop this tomorrow but looking at this drawing they sent, it looks like its all open on the bottom...I like the look but will I still be able to have an electrical outlet somewhere on here if its open on bottom? I'm thinking I need a base on the floor to cover electrical coming up & will need a toe kick...is that right and do you think that will ruin the look? I was going for almost a work table look...
Also, I'm thinking I want to lose the middle shelf. Opinion on that move? Reasons being the height of the island will only be 33/34" instead of 36" high bc Im short & will enjoy that for prep/baking. With the drawer there too I think the 2 shelves will end up being rather close together. And other reason I think I should eliminate the middle shelf is because I originally really wanted the open/airy look of a work table instead of a small (24x54) island, but my desire for electric & a lack of a good spot for a trash pullout in my perimeter led me to this compromise...I'm thinking this design isn't looking so open and airy anymore but losing the middle shelf would help bring me closer to my original vision.
Opinions please if you will! I'm dyingggg to sign off tomorrow and stop worrying about this layout!
edited to add...Sorry, subject line misleading, my questions are never quick!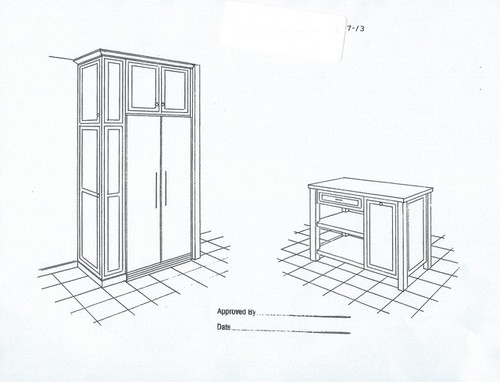 This post was edited by homebuyer23 on Sun, Jun 9, 13 at 19:38