Yogurt Berry Muffins as promised :-)
As promised, A2gemini Yogurt Berry Muffins - My mom's recipe book always included the source in the name, so following her tradition.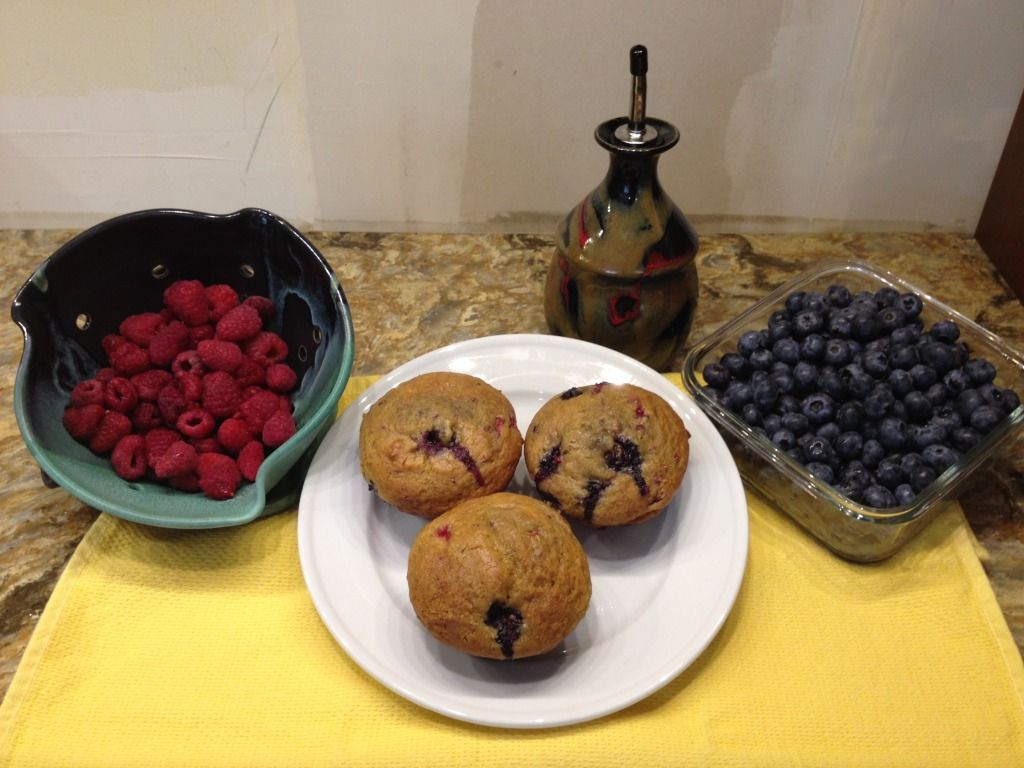 1 cup brown sugar
1/2 cup of oil of your choice
1 egg
1 cup Greek style yogurt or drain regular plain yogurt
1 tsp baking soda
~1/4 tsp salt
1 tsp almond extract
1 cup white flour
1 cup "white" whole wheat flour
2 cups fruit - I used raspberries and blueberries because they are in season.
Cinnamon/sugar mixture for the top of the muffins
Preheat oven to 375 degrees
Grease/flour muffin cups and top rims
Mix together the oil and sugar
Add the egg, yogurt, and almond extract
Gradually add the flour, salt, and baking soda
Divide into muffin cups.
Dust tops liberally with sugar/cinnamon mixture
Bake 20-25 minutes (oven dependent) until cake tester or toothpick comes out clean.
Cool on rack for ~10 minutes. Place towel over muffins and invert to pop muffins out of pan - I usually have to encourage them a bit - wiggle the muffin, tap on bottom, etc...
Makes 12 full size muffins. Feel free to play with the flour - I plan to try this with all whole wheat in the future.
And here is a picture of my "bake zone". It isn't finalized yet, but sure is helpful to have it organized.... Not as fancy of some kitchens but makes it quite functional.