Small Galley Kitchen Reveal
I moved into this house about 3 years ago. The kitchen was ugly and not terribly functional. I saved up and planned and finally my kitchen is finished.
I did not really find GardenWeb until I had almost everything purchased and planned, but I still enjoy reading what everyone has to say and seeing everyones ideas.
My kitchen is a galley, approximately 7'2" at it's widest and 12'4" at the longest. At the window end, there are three stairs leading down to the back door/sunroom. On that stairway there was a pantry which has now become our coat closet, as that is the entrance we use most. The sunroom is really more of an uninsulated mud/storage room which contains our recycling, bikes in the summer, sports equipment, snow shovels in the winter etc.
I shopped around and bought things piecemeal as I could afford them. I knew I didn't want dark cabinets as I thought it might feel too claustrophobic. I knew I was going to buy Ikea cabinets during a sale, as I was on a small budget. The whole renovation was approximately $9000, including appliances and installation. My friend helped me install the backsplash, I installed the ceiling fixture, but I hired a small company recommended by a friend to do the rest. I kept the footprint the same to reduce costs. I did add extra plumbing for the dishwasher (Yay!!) and water dispensing/ice cube making fridge (also Yay!!)
It's finally finished except for the caulking once the tiles have cured. I thought I'd post the pics, since it is virtually finished. I still have to make the other roman shade for the end window.
Cabinets: Ikea Adel White
Counters: WilsonArt Black Alicante HD Laminate
Floor: Allure TrafficMaster vinyl tile Delft Stone
Backsplash: MS Greecian Marble 3x6 tile Home Depot USA with pre-mixed Bright White grout.
Faucet: Kohler Simplice Polished Chrome Lowe's Canada
Refrigerator: KitchenAid Counter Depth (scratch and dent section at a local appliance store. I replaced my old fridge which broke about 6 months prior to starting the reno.
OTR Micro: GE I went this route to save counter space. It vents directly outside. I sold my other microwave and stand to a friend.
Dishwasher: Bosch Ascenta Lowe's Canada (50% off!)
Cabinet Hardware: 3" Venice Arch (Style Selections, Lowe's Canada store brand in a cheap bulk pack of 25 pulls)
Ceiling Fixture: Ikea Tidig
Sink: Domsjo single sink, Ikea (chosen by my 12 y.o. son)
Paint: BM Hawthorne Yellow (chosen by my 8 y.o. son)
Under Cabinet lighting: Illume LED Home Depot Canada
Photos: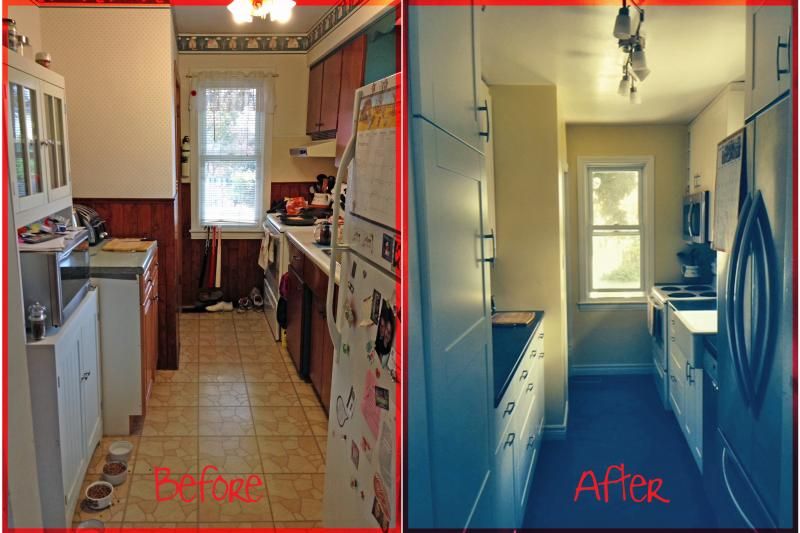 There is a 24" pantry, an 18" pullout which contains the mixer/blender etc. The middle bank of drawers has the "lunch centre" along with plastic cups/dishes, and the bottom one contains mixing bowls, colanders and other assorted stuff.

I did not replace the old stove, as it still works. The top drawer has cooking utensils, middle has pots and pans and the bottom has casserole dishes, and a dutch oven.

The top half of this photo is the counter and the bottom half is the flooring.

Backsplash:

Thanks for looking!