Is 17x21 a good size for a prep sink? it would be 8" deep.
Kristen Hallock
June 3, 2013
My mistake the sink I am thinking of is 14 3/16 x 18.5" that is the interior space.
My main sink is a Blanco Wave 1.5 bowl 10" deep.
I have a 24" sink base allotted on the island for a prep sink. Its on a corner. The 14x18.5" sink requires a 21" cabinet. My husband doesnt want a huge sink as a prep sink. So I thought the 14x18.5 would be big enough to be useful but not seem huge. WDYT?
The blanco super supreme has an interior dimension of 18.5 x 18.5 and required a 24" cabinet. So I could fit that one too, but DH will probably b!tch about the size.
Here is the layout and the sink is at the corner of the island between the fridge and range.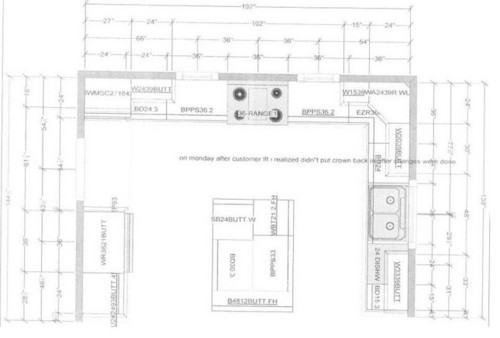 This post was edited by khallock on Mon, Jun 3, 13 at 16:08