My Kitchen Reveal
With great apprehension I have finally built up the courage to post my kitchen. We just finished the backsplash after living here for 5 months already. When I first posted my "plan" i received some pretty negative reviews. I love some suggestions people give (sarcasm). My stove top area was one huge design blunder apparently..."it will be very cave like"...well I love it and with a 36" stove top to work on we sometimes have to cooks at the same time working on it! Also with high vaulted ceilings there is no cave like effect.
Anyway rant done.
Details from what I remember:
Fridge- LG counterdepth(love the water and ice on door)
Oven- Kithchenaid Oven/micro combo (thumbs up for convection cooking)
Warming Drawer- kitchenaid (very handy element for us)
Stove top - 36'Kitchenaid (love the large bridge element)
Vent- Kitchenaid downdraft vent (very quiet,powerful and not sticking out above for us 6' tall plus people to bang their heads!)
Dishwasher- Bosche (so quiet)
Sink - Kholer cast iron in black (my back beauty)
Faucet- I think it was Kholer
Counters- Island- Antique Brown (fantastic)
Perimeter - Quartz Aurora Snow
Cabinets- done by local cabinet maker, he mixed up our stain to what I wanted!
Backsplurge- Marble sunflower with a mix of thassos and carrera
Floors- factory finished white oak in a mocha stain I think.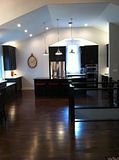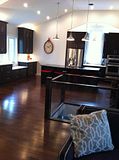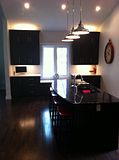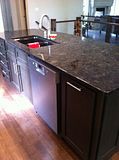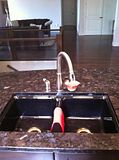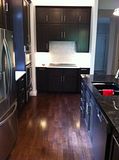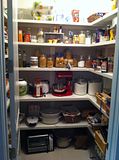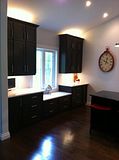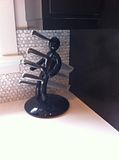 We enjoy the "window seat" to watch the birds at the feeder out the window plus it is great space for large baking days! All the drawers were well worth it! The dedicated garbage/recycling pull-out is great. The dark cabinets are not any harder to clean. All it means is if you see a smudge it gets cleaned...yay i'm not hiding grime! I don't have any problems with finger prints on my stainless steel appliances. I do not have little children but one big teenager who has a problem using napkins and washing his hands!
Anyway it was a slow morning so a lot of chatter in me!