Grout, (HELP!)tile, floors and lausuits..it never ends!
Our kitchen project began on march 21 and progressed nicely to near completion on May 10, when the tile backsplash was to be applied.
http://ths.gardenweb.com/forums/load/kitchbath/msg0513364613292.html
The tile subcontractor screwed up not only his job, but the new hardwood floors, and broke our new capital range (attempting to conceal the damage to boot!).
we had some very heated conversations with the contractor, and accepted his plan to repair/replace the screwed up backsplash tile, and fix the floor. We told him to have his insurance company call us to give us a quote on repair or replacement of the stove....this was three weeks ago.
In the meantime, no contact from the contractor or his office manager to schedule repairs...and his insurance company has denied the claim, subjugating this to the subcontractors insurance company...who has not contacted us.
so we're back to the attorny/lawsuit route.
The quesiton I have is about the grout. The contractor and sub spec'd out unsanded grout in the stone backsplash, with grout areas from 1/4" to 1/2", the grout sagged and cracked all across the surface(the photo shows a small sample of the 2'x3' mosaic, it is consistently cracked like this across it's surface). The contractor came to inspect his sub's work and said :
"I've been installing tile for 30 years, I always use unsanded grout in stonework like this as it prevents staining, cracking is common because the stone absorbs water from the grout...we rake it and then reapply, I will guarantee this work for your lifetime, this grout will not fall out" He gave me examples to go look at of unsanded polymer grout used in similar applications.
is this horsesh*t? sure sounds like horsesh*t to me but I need another tile contractor to tell me so.
We are fully at the point where a lawsuit is warranted. I have spoken with an attorney, I have quotes and my demand letter is currently over $10k.
My wife called the contractor (who refuses to speak to ME) and informed him that if we did not have action by friday we would be pursuing other avenues to get this situation corrected.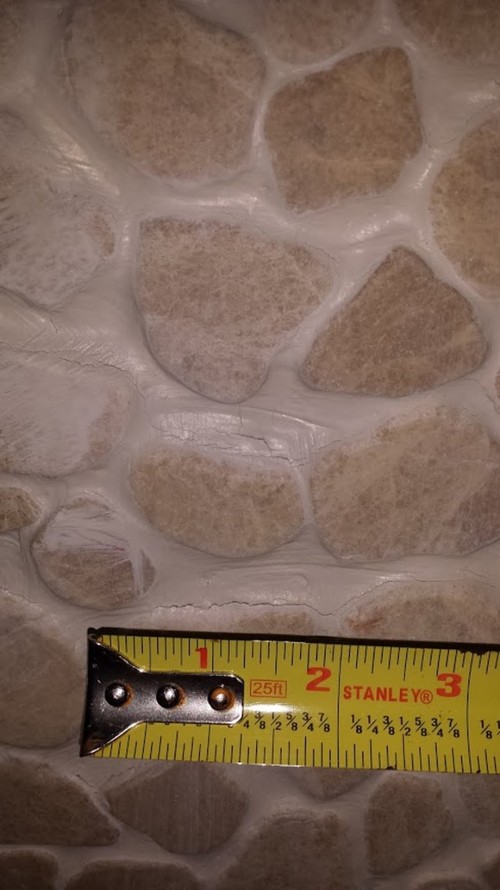 This post was edited by schorert on Wed, Jun 18, 14 at 12:14