White/white/white kitchen refresh FINISHED
wi-sailorgirl
June 4, 2013
Hopefully the subject warned you that if you're not a fan of white kitchens, you definitely will not like this one. Fortunately, I am (and have been as long as I can remember).
This was more of a refresh than a reno. The cabinets, counters, sink and backsplash are all new. The floors and all appliances are not (we've replaced them all slowly over the last 11 years of owning this house). Although we only changed a few things in the kitchen in this latest go-around, I don't think there's anything left save for the basic layout that is the same as it was when we bought the house. So maybe this was really an 11 year reno!
Anyway ... photos (and lots of them). Details at the end.
Before (about three years ago). I know, it's not really bad looking, but the cabinets were in rough shape and I hated the dust-collector shelf on top of them.

The inspiration picture (from Coastal Living magazine):

After:

Walnut trim on the mantel hood (thanks to Katieob for the inspiration). The panel above the mantel flips open for additional storage around the vent.
The hutch and upper cabinets flanking the sink also have glass sides and I'm so happy we did that. It makes it feel so much airier. Dimmable LED lighting in the cabinets. The lighting looks a bit sickly green in some of these photos but it's actually a slightly cooler white (we didn't want to go too warm with the lights).
When we bought the house, a stackable washer and dryer were walled in next to the fridge. We move the laundry several years ago and used the area as a pantry but the half wall on one side sort of stuck out into the space. We removed that and did a built-in pantry around the fridge. The difference in depth was probably less than a foot but having that protrusion into the room gone makes a huge difference in a small kitchen.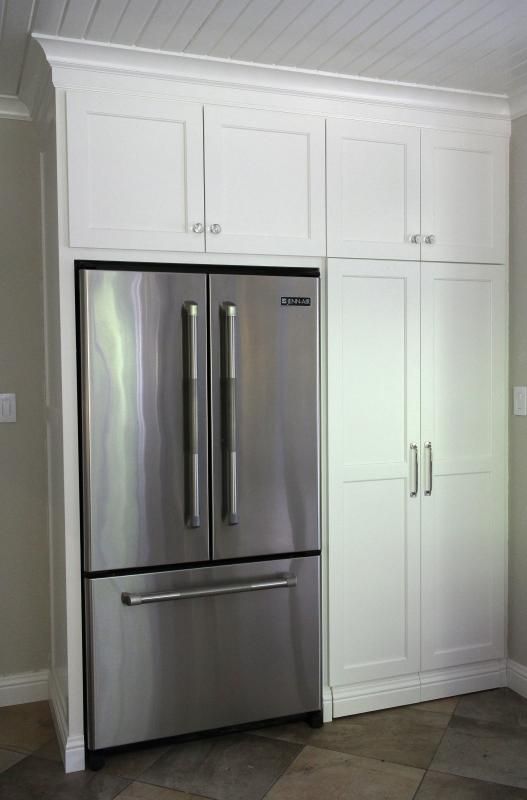 Pantry area (we weren't planning to light it but we had extra LED strip lights left so we stuck some in there. Love the area for the roll-out dog food and step stool and of course I love having my microwave in there where we're had it for several years).
Vertical storage over the fridge. Should have done more of this.

Probably my favorite thing in the entire kitchen (other than the backsplash). I love not having stuff on my counters.

A shallow drawer pulls out for cutting boards and oven mitts.

By the dishwasher we need a spacer so the hutch would match up with the cabinet above but I told our cabinet guy to find some kind of storage to stick in there. I think it's really meant for spices but I obviously don't need spices there so we use it for various dog potions and pills and the big bottle of Advil.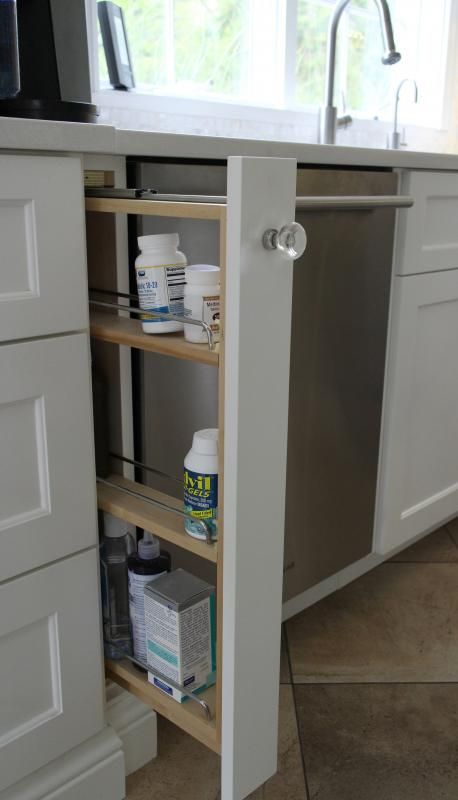 A few detail shots:
We planned the double molding around cabinetry as a design element but it ended up really saving us when it came to the molding because our ceiling is incredibly out of level. We took up the difference in that second piece of molding and you can't even tell now that the room is horribly crooked.
The glass knobs. Love them SO much.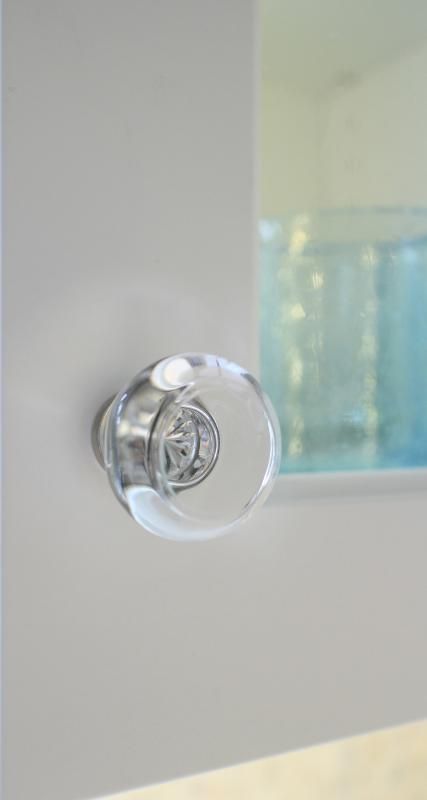 Close up of the backsplash (with my little walnut tray).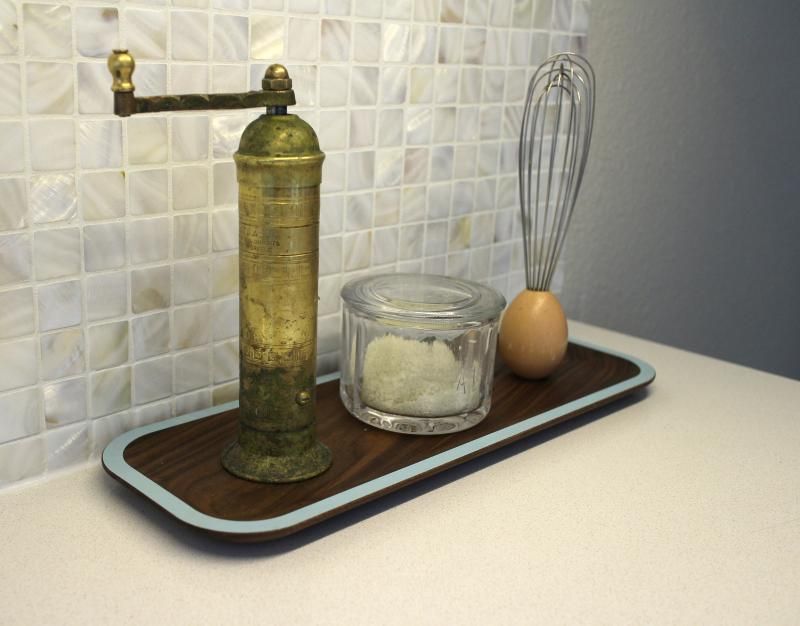 And lastly, the other side of the kitchen, which is where a lot of the color comes into the room. I painted the door black on a whim this winter and love it. The barn light over the sink was originally white but I spray-painted it black after the cabinets went in because I thought it would be good to pull the black over to that side of the room. This is our back door so we walk straight into the kitchen, so it's not just a functional space but a major thoroughfare as well.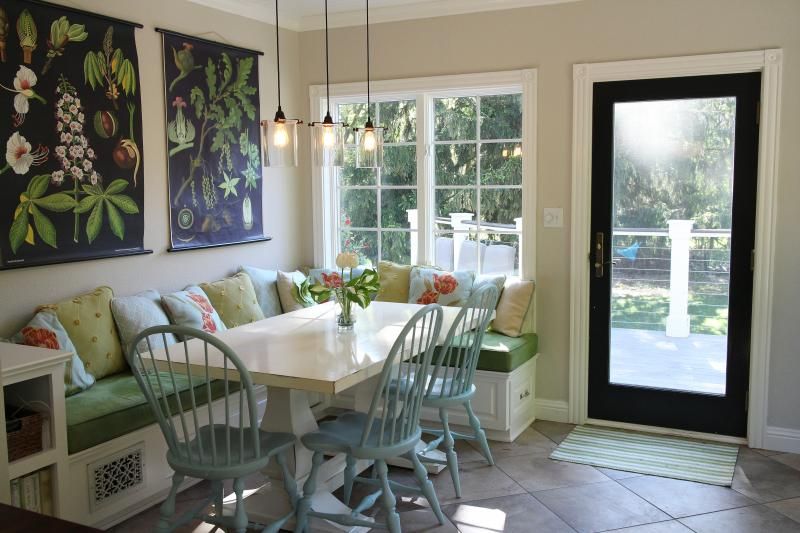 I took off all the window treatments (nice lined bamboo roman shades) to paint but I kind of like it with them off. I could, however, stain them a walnut color to match the other accents in the room. So I'd love to hear opinions on whether you think they should go back up.
Info:
Cabinets: Custom cabinets made by a local cabinet maker (he's done other things in our house too and always does a great job). Painted (several times, but let's not talk about that) Benjamin Moore Cloud White
Countertops: Caesarstone Eggshell (aka Osprey if you're outside the U.S.) Island is walnut butcher block, I think from Blockhead Blocktops in Michigan.
Hardware: Emtek Georgetown glass knobs (1.25") and Restoration Hardware Aubrey pulls in polished nickel (and yes, we had the problem with the screws breaking off and replaced them all).
Cabinet glass: Bendheim glass, mouth-blown clear soft seeded (a splurge but I'm so happy we did it). I need to take a better picture of the glass so you can see it to appreciate it.
Backsplash: 1-inch mother of pearl mosiac, purchased through Key West Tile (the source listed in the article I used as inspiration), but I've seen the same or very similar tile online through Glass Tile Mosiacs. Polyblend grout in Bright White.
Vent hood: Kobe 36-inch insert. We have an existing downdraft but when we replaced our range several years ago we had two ranges to choose from that would work with that venting situation, so we installed the overhead vent now so when it comes time for a new range (hopefully many years from now) we aren't limited in our selection. Plus, it works MUCH better than the downdraft (both vent outside).
Appliances: All existing Jenn-Air
Paint colors: Anything white is Cloud White. Walls are Benjamin Moore Edgecomb Gray (previously they were Revere Pewter which is still a favorite color but I felt it was too dark with the tile).
Lighting:
- Large Thomas O'Brien Hicks pendant in polished nickel over the island. Even though this like is rather ubiquitous, I couldn't help myself. I still love it even if it's everywhere. It is polarizing though: people either love it or hate it.
- Barn Light Electric sconce over sink. It was white for several years but I spray-painted it black
- Roost glass cylinder lights over kitchen table.
-UCLs and in-cabinet lighting is LED strip lighting purchased locally. Sorry, I don't know the brand.
Sink: 32-inch single-bowl Kraus stainless steel
Faucet: Hansgrohe Talis S (DO NOT buy this from Home Perfect. I had a horrible experience, ended up filing with the credit card company and just buying the faucet for $10 more through Amazon.)
Let me know if I've forgotten anything. Special thanks to the helpful folks here, particularly the friendly voices on the Small Houses board as well as some of the experts here. It's no secret that I drew a lot of inspiration from many of your kitchens including Breezygirl, Katieob and Beekeeperswife.
This post was edited by wi-sailorgirl on Tue, Jun 4, 13 at 11:52