countertop and backsplash considerations
foodonastump
June 16, 2013
In our kitchen reno we're trying to stay rather style-neutral because we'll likely be selling soon. We figured the cabinets (Kraftmaid, maple, praline) was a middle ground that wouldn't completely turn off people who hate either white or dark. I realize wood floors are preferred by many these days, but connecting/matching into the adjoining floors was an issue for a variety of reasons so we felt it was easier to go with tile. We chose a light cream because it's a dark room with only one window that looks out into a screened-in porch.
Anyway, now it's time to pick counters and backsplash, and now that we're here I understand why I've read pages upon pages of people stressing over this decision!
For the counters I'm considering something again "medium", probably a granite that has some movement, something in the neighborhood of the golden flower linked below. Thoughts?
More concerning is the backsplash choice. My plan was some sort of tile and to continue the backsplash up to the 8' ceiling over the range. (There'll be a stainless chimney style hood there.) Therefore it needs to be interesting enough to be a focal point, but again I don't want it to be overly stylized in any direction.
Do I need to keep the backsplash light like the floors? (The floors are lighter than my monitor shows.) I'm thinking it might make the room top heavy to go darker. Any general suggestions for material? I was thinking porcelain tile but am open to suggestions. Do you like the idea of extending up the wall, or would you keep it simple and just go up to cabinet height all around and then paint above the range? I'm not crazy about a stainless sheet behind the range - for my particular application.
Thanks in advance for any suggestions, whether high level or specific. Cost is a factor - we're in a middle class neighborhood where from what I've seen online and in person people aren't going too nuts.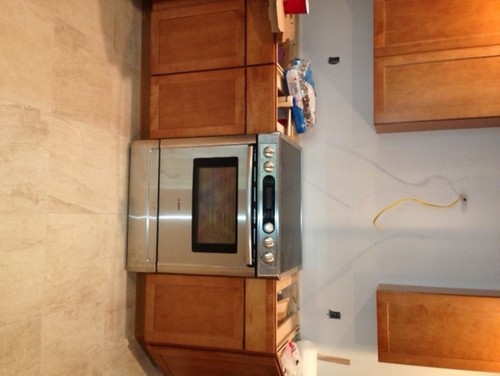 Here is a link that might be useful: golden flower