Finished kitchen (thanksgiving week DIY remodel)
A year and a half ago, we DIY remodeled our kitchen in a week, and we're finally done. :-) Since we enlarged the kitchen into the breakfast nook area, we planned to bump out a wall to add on a new nook area. There were some delays in that process, which didn't start until last July, but we just got final inspection approval last week, so I'm finally ready to post finished kitchen photos. In the meantime, we also dressed up the dining room with wainscoting and walnut floors, added a bath and laundry room upstairs, and built a sunroom (connected to the breakfast nook). Oh and re-did the mudroom, powder room, and pantry.
The original thread, in case any of you weren't around then, is linked at the end.
So here we go:
Before was builder-grade oak cabinets that I sold to a coworker for $1000 after putting a few in the garage; black-and-white speckled laminate countertops (couldn't even give that away on freecycle), gray berber carpet (yikes!) and not nearly as many cabinets as could have fit there.
And here are the afters: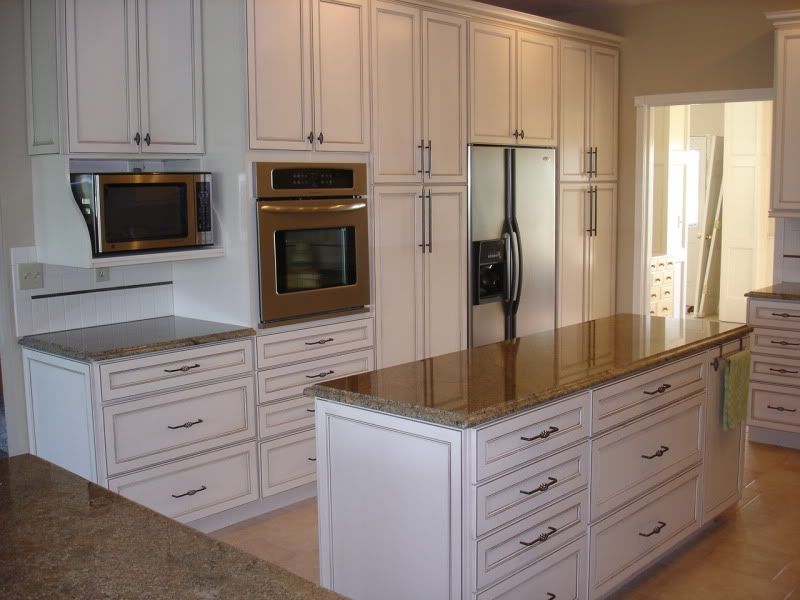 The view of weedy acres from the breakfast nook.
Our cat Nemo's favorite spot, though she likes barking at the birds and rabbits as opposed to ogling the lake.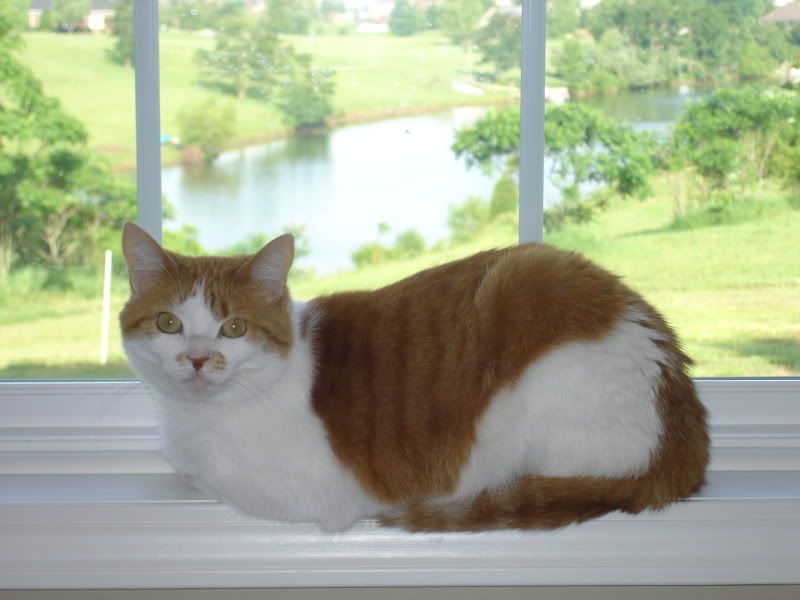 And a shot that shows the remodeled dining room.
And some detail shots of the backsplash: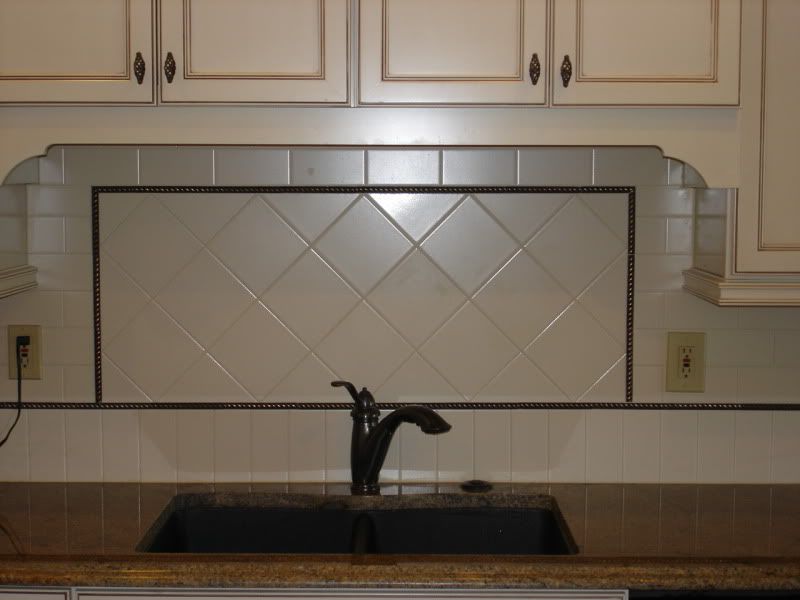 And the mixer stand
OK, and here are some details. Total cost was about $34,000.
Cabinets: Kraftmaid Parkdale door, vanilla bean glaze, purchased from HD (found a great KD there).
Paint: Sherwin Williams "Nomadic Desert"
Floor: Rialto Beige porcelain from Lowe's, Spectralock Mushroom grout
Heated floors: Warming Systems
Backsplash: Matte biscuit ceramic subways and 6x6s by American Olean from a local tile store, with bronze liners from Home Depot. Spectralock Almond grout.
Granite: Terra Brazilas
Range: GE Profile double oven (love it), bought from HD
Wall Oven: Fridgidaire convection, bought on ebay
Fridge: Whirlpool, bought from Lowe's
Dishwasher: Maytag, bought from HD
Microwave: GE, bought from Lowe's
(None of the appliances are high end, so I haven't included model numbers or anything).
Hardware: Birdcage knobs came free with the cabinets, we spraypainted them bronze. Birdcage pulls are "twisted wire D pull" from hardwareaccents.com. Bar pulls from moderndanish.com
Pendant lights: Portfolio, from Lowe's
Nook drum pendant: Forecast lighting Urban Oasis pendant from littmanbros.com
At some point I'll decorate/accessorize. But amidst all our continuing remodeling, keeping it clean is about all we can muster.
Here is a link that might be useful: GW thread of our kitchen remodel