Silestone and Leathered Quartzite are in!
Just a couple of pictures of yesterday afternoon's install. They were in and out in an hour. I can't say enough about the company I worked with. I will post all info once kitchen is finished. Now the upper countertops can go in. Install was halted as I have 2 appliance garages that sit on the countertop.
The perimeter is Silestone Stellar Nights. It was DH's choice, he had seen it many years ago and said "if we ever reno our kitchen, that's what I want". I can't say it was my first choice but now love all the glitz and glam it brings to the space. I think it will sparkle even more once the under cab lighting is in and the pendant over the sink.
I chose the peninsula which is leathered finish Suprema White. I love it! It feels so nice which a bit of texture. I chose a slab with less "chunks" and more variation.
The wall color is BM Revere Pewter and looks sage green next to the gray countertop. I love the paint color, it varies from gray, to sage green, to a gray-blue, depending on the day.
Silestone Stellar Nights (location is at slide-in range):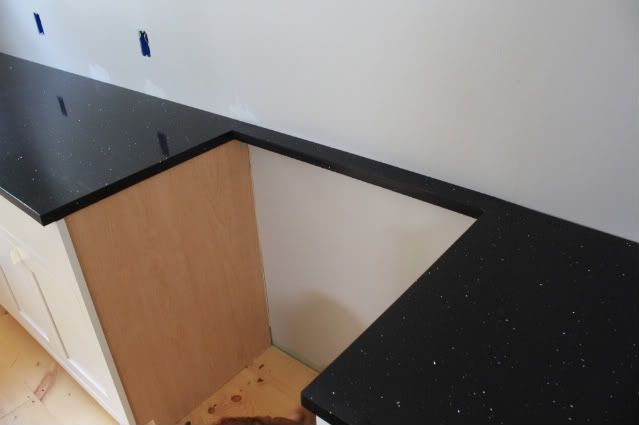 Suprema White Leathered Quartzite on peninsula (BM Revere Pewter on wall):