First Post - Need some serious color choice HELP!!!
MrsPowell1025
May 10, 2013
Okay, so my husband is in the process of remodeling our kitchen. He basically gutted it, changed the layout and is now in the process of putting it back together. At this point the drywall is up, it's been spackled and sanded and the next step will be priming the walls. Which means my one (and only) contribution - wall color choice - will come in to play and I don't have a clue!!!!
Because the cabinets have not been built yet, I have attached a stock picture of the gray high gloss cabinets that we've purchased from ikea. We saw the cabinets and immediately fell in love with the sleek, modern look (not thinking about how difficult it would be to find light, fresh, complimentary colors for the walls).
Here's what I need help with - wall color (paint) and backsplash suggestions. For the rest of the kitchen - appliances are stainless, sink is white farmhouse style, floors maple (very light) hard wood, countertop hasn't been picked out yet but it will definitly be white granite with grayish veins (mainly white). It's not the biggest kitchen (12' x 13') but it's a good size. I just don't want it to look too dark.
Any suggestions would be greatly appreciated. Thanks!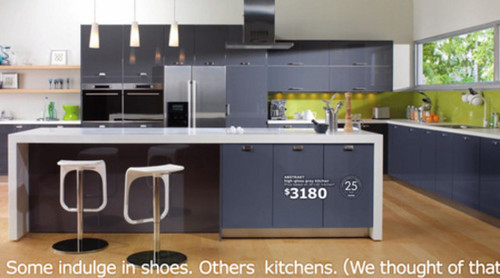 Here is a link that might be useful: Gray cabinet image
This post was edited by MrsPowell1025 on Fri, May 10, 13 at 23:44