Kitchen Layout: Two (very) different drawings - which is better?
Hi all! Newbie, first-time poster here. First of all, I've learned SO much about appliances and design from you experts out there since I discovered GW this past month, so thank you. I was hoping to get some valuable feedback as the time draws near for us to start our own kitchen renovations!! Here are some things about my family/home that might help you discern which layout would be the better of the two.
A little about me/my family:
-We have 3 young kids, and plan to have more. So the need for a larger kitchen with more counter space is inevitable (it's constantly a disaster zone, as is).
-I'm the sole cook, DH is the dishwasher. But when we have family in town (quite often), we may have multiple cooks in the kitchen (which does NOT work, as is.)
-Kids are constantly running thru the kitchen; usually i'm okay with that. They love to help cook, and will moreso as they get older.
-We entertain a lot. Large family, big parties.
A little about the home:
-1979 two story, traditional, limestone. Can feel the charm/age of the home, even with recent renovations (hardwood floors, knocking down walls). So traditional/transitional style, but with constraints of the original build/layout. Think white trim, plantation shutters, limestone fireplace, rocking chairs on front porch kind of house.
-8 foot ceilings everywhere.
After looking at several layout options for redesigning a kitchen, we're going back n forth on these two drawings (and boy, are they different!) Here they are: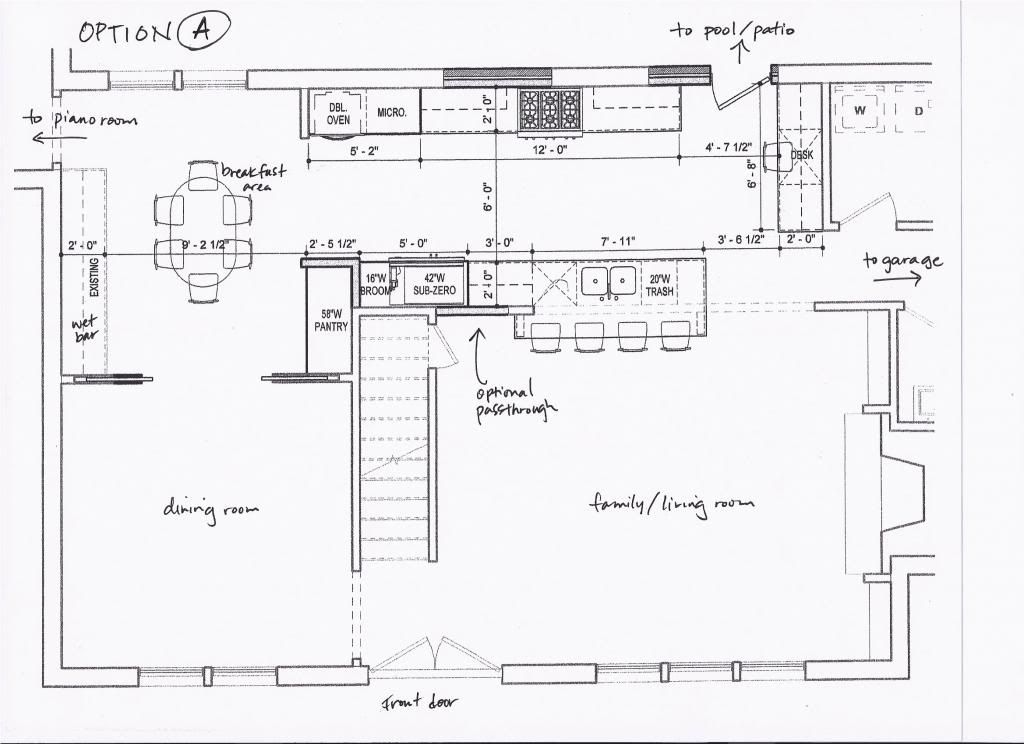 -Front door entry is on bottom
-Entry from right (by w/d) is garage
-Entry on top (back of house) is currently a sliding door to a large backyard pool and patio.
-Entry to left is a large multi-purpose, piano/music room. (previous owner built this extension as a dining room, but devoting so much space to dining wasn't as functional to us). Notice the weird way they built the extending doorway in the corner - too bad! We can't build cabinetry up to the doorway, so wasted space.
Finally, here are my thoughts regarding the two options:
Option A: open kitchen to living area. This is great for mingling, but two negatives (IMO) are 1) you can see the kitchen from the front entry, and 2) closes the space somewhat with an island. Still open, but feels a bit smaller than it currently is. I've read the threads on open v. closed kitchens, and I'm all for an open kitchen in a newer build, but it seems a little 'off' to me in our home, since we have neither soaring ceilings (8') nor much depth from the front door clear to the back door (25'). Of course, exposing the messy clutter is also an issue, but maybe I will have to learn to keep it tidy... or just have to get used to seeing my kitchen (including stove/hood, sink) from my front door entry. It is nice to have all the natural lighting throughout the kitchen in Option A.
Option B: Kitchen is hidden away from the front entry (can build a door immediately to the left of the entry). Altho kitchen is now even closer to the front. I have my own prep area and DH can have his own DW station. We lose our existing dining room though, and would basically flip the dining table to the top right (by pool entry), which would probably also get covered with clutter... but better than island of clutter? The island clearance on both sides is drawn at 3' which is too narrow, from what I've read. I might have to cut back the island to a 2' prep area (behind dishwasher), and keep 3' at the top end for sitting/chatting/homework (L shape). Is it still too tight, or not worth it to have an island? But w/o the island prep sink, I think a 9' hike from sink to stove is just too far. Note: On option B, we could potentially flip the bkfst area and kitchen, so the table would be closer to the front door, and kitchen north of the bkfst table. Not sure if it'd be better to have the breakfast table as is, in line with the dining, divided by passthru (good for adults/kids table when entertaining, more sunlight, bad for weaving around to get to piano room), or closer to the front door, so kitchen is further from front entry?
SO, if you've actually read this far...
1) Which option is better, overall? Which makes better use of space? Which is better for our growing family?
2) Which layout is better for resale? We are not planning to leave anytime soon, but if we ever have to sell, we don't want a buyer to say, "What the heck were they thinking!?" Obviously, both of these require major reconstruction, and once it's done, it's done. We want it to really be worth the time and investment.
Any and all input is very welcome! Of course, there are many variations regarding these two options, too. Thanks in advance for helping out this mom, who is very excited (and nervous) to get this going!