Kitchen Plan--Please critique NYC small kitchen.
First time posting. Thank you for reading in advance.
I am planning on renovation a NYC small kitchen 11â x10â second floor 1200 sq ft apt. I am thinking of changing peninsula to an island, as shown below. And also like to put in refrigerator/cabinet/pantry against the wall in the dinning area ( in front of the bathroom) for storage. We use the small dinning room extensively, as well as all part of the apt :)
I couldn't figure out how to post several pictures. But there is a 40" hallway on the picture below leading to 2 bedrooms ( between the refrigerator on the left and the cabinet/ ventilation hood on the right).
We are a family of 4, children age 8 and 12.
Appliances I plan on having:
⢠free standing Rangetop with Oven
⢠MW: ? built-in, on the island
⢠DW: Standard
⢠Refrigerator : French door Counter-depth (CD)
⢠Ventilation Hood: Modernaire 36âÂÂ
This layout was done 12 years ago when I moved in:
https://www.dropbox.com/s/xfipekc7c8ivz4r/FloorPlanFull.2001.pdf
new proposed layout:
https://www.dropbox.com/s/cx66glexk0qjgzg/1.png
https://www.dropbox.com/s/cy9aj7sin67uljm/6.png
https://www.dropbox.com/s/of7h3m837dgqs63/7.png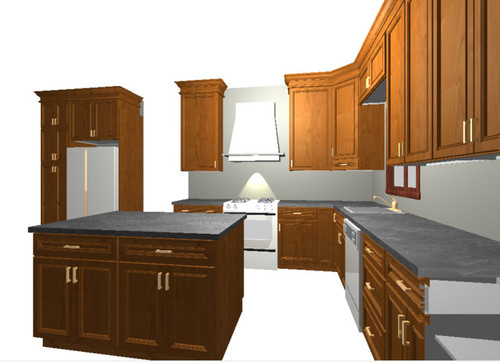 Here is a link that might be useful: old floor plan