Please help me finalize my Kitchen design
Hi All - I have been reading and researching for weeks and have this narrowed down to three options. The input from everyone here has been invaluable so I hope you don't mind lending your opinions!
First - We are a family of three - two 6'+ adults and one tall 10 year old. We also have one black lab / hound mix dog.
I have made a decision on appliances: Wolf 6 burner range, 36" Broan professional style canopy hood with 1200 cfm external blower, 42" SZ SxS, GE Monogram Advantium speed oven and bosch DW.
The existing floor in the kitchen is wide-plank maple, which will stay. Cabinets will be a simple shaker-style in an off-white. Currently there is a wall between the kitchen and dining-room, which will be removed and replaced with a peninsula.
One of my requirements is a place to feed the dog in the kitchen. Either a book-case on the end of the peninsula with cut-outs on the bottom shelf for bowls, or just an alcove / overhang at the end. One design has the peninsula end with table legs.
I have three options - the first is from a custom-cabinet maker. He would do the demo, build cabinets, install the lighting, cabinets, hood ductwork, etc. The construction would be plywood frames with maple cabinets and drawerfronts, dovetail drawers, softclose, etc - no MDF. He seems great but to get in line with budget it would not include roll-out shelves and some of the fancy finishes I hoped for - such as furniture legs on either side of the sink, panelling on the back of the peninsula, dummy doors on the end of cabinet runs etc. Is it difficult to add some of those things later?
He is also recommending no seating at the peninsula - and only a 12 inch overhang of countertop. There is enough width in the DR to accommodate up to 18 inches of overhang from that wall - as there is currently a hutch against it that is 18'' deep. Should I have counter seating or not? The current kitchen is 'eat-in' although we don't eat in it. We always sit at the DR table.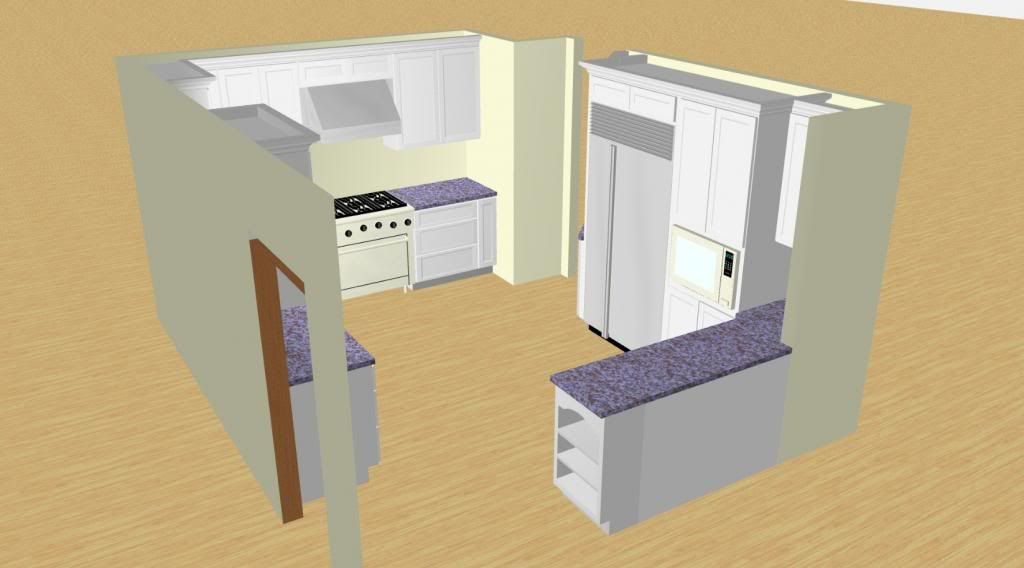 The second one is kraftmaid cabinetry.
I like the idea of the peninsula ending in table legs to tuck the dog's dish under, but am a little concerned about the loss of cabinet space. I also like the idea of the rolling 30" island that is proposed. It would be nice to order it in an accent color. These cabinets would be loaded with all the bells and whistles - roll-outs, soft-close, details etc. It will also cost about $5K more.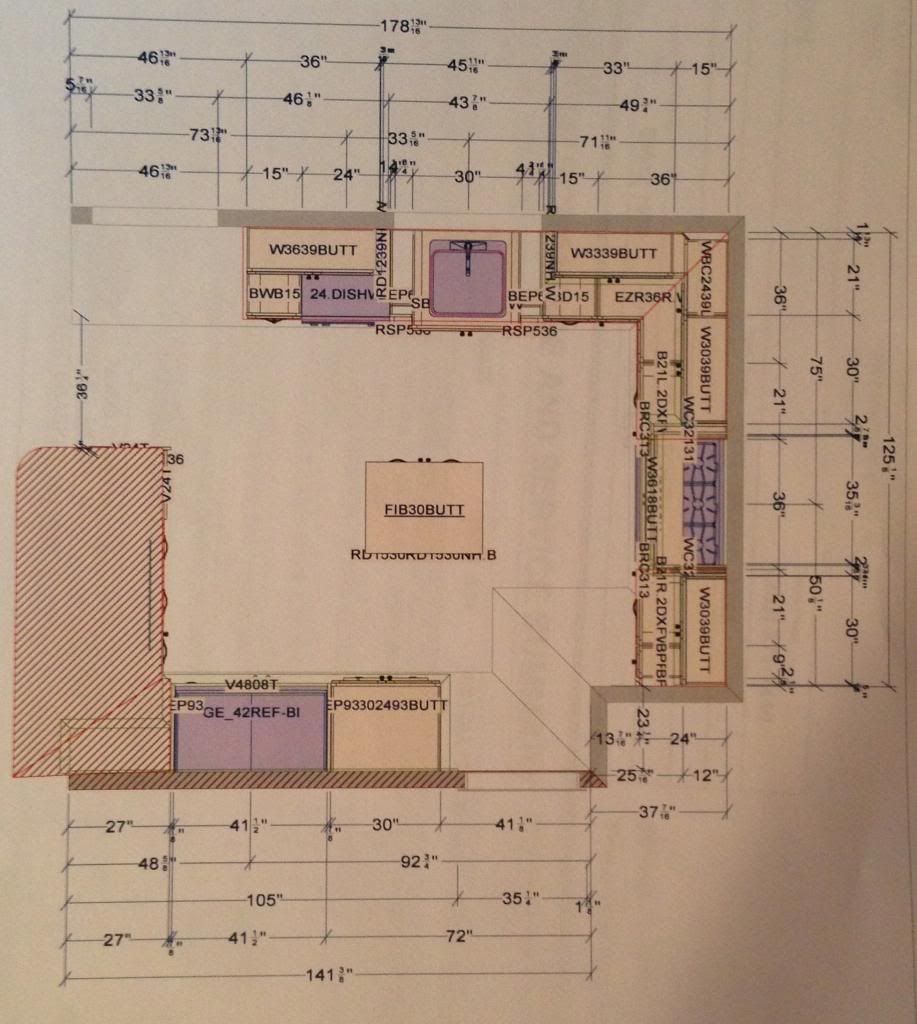 And the last is a design provided by an architect who also represents several cabinet lines.
They each have their strengths and weaknesses. How would you choose? Any suggestions are welcome.
For context - my existing kitchen only has cabinets on two walls and feels very closed-in. Opening the wall to the DR will incorporate light from three large double-hung windows.
I am very ready for this phase to be over - but don't want to do it if it isn't going to be right.
Thank you all in advance for your feedback!
PS: To add a little more context - here is the surrounding layout of the house around the kitchen -