Third time's a charm? Not so much! Update on counters!
Thought I'd start a new thread. OP is linked below.
Update on the NEW job: Found another contractor/fabricator - a well respected and reputable one. Visited the showroom (twice), was given refernences and had extensive discussions regarding craftsmanship, my prior experiences (including pictures) and my concerns.
They templated a few weeks ago and installed yesterday. While they "appear " fine, there are a few things that disappoint me a bit:
1) At templating, I had talked with them about the projection past the face frame and we agreed on 1.25". However, some areas are 1.25" and others are 1.5":
- The short ends of the sink counter (to the left and right of the sink ) - the projection is 1.25"
- The sink edge is 1.5"
- The counter to the right of the range projects past the face frame 1.25" while the projection of the counter (peninsula) to the left of the range is 1.5" (My cabinet maker and I did check and the cabinets are plane so the variance was not to accommodate for unevenness of the cabinets.) Hopefully with the range in between the variance won't be noticed.
2) The peninsula overhang over the bookcase end varies by almost .25" from end to end. And about .25" of the subtop at the range opening is exposed.
3) We also discussed the thickness of my tile backsplash (with a sample on hand), however, the gaps between the wall and counter are almost twice the thickness of the tile. I'm hoping that this will be a non-issue once the thinset is factored in.
(see pic for general layout: The large piece is shaped like such '[' and the counter in the lower left is the peninsula and is bascially a big square piece)
Not sure why the variances if the template was done accurately and followed during fabrication.
As I said, it "appears" okay ... but WHY is it so difficult to get something done right?!
I REALLY REALLY don't want to go through another tearout and redo ... is it justifiable to ask for a discount?
Advice? Thoughts?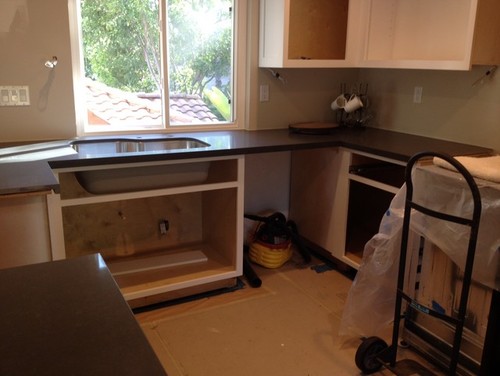 Here is a link that might be useful: Help! My perfectionistic tendencies ... (OP)