Please help pick cabinet/floor combination
I'm stuck! We are putting in h/w floors, and replacing the cabinets and having a very hard time deciding on the floor and cabinet colors. We are a "stained" wood family, so paint is out, but I also want to have enough contrast between the cabinets and floors so it doesn't look like a sauna. I (think we) want a lighter floor and a darker cabinet (because the darker cabinets will draw the eye up and the lighter floors won't show the dirt as much... I hope) We are drawn to the exotic hardwoods, and they tend to be darker so to get enough contrast we are looking at very dark cabinets... and I'm getting scared it will be too dark.
The kitchen isn't small, but we have 8ft ceilings, and little natural light. We are adding recessed lights, and plan on using a light granite countertop and lighter backsplash so it is hard to predict how things will come together. Our cabinet maker has limited "dark brown" options (which given our indecision is probably a good thing!)
So here are our options,
Amendoim floor with dark brown cabinets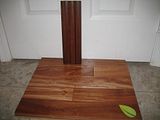 Brazilian Teak floor with espresso cabinets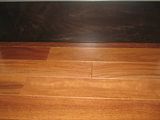 Santos Mahogany floor with espresso cabinets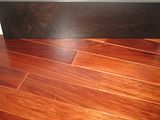 What do you think?