HELP - need to pick a floor stain by tomorrow!
Hi,
I'm struggling to pick a floor stain from the samples the floor contractor has made up for me. I had narrowed it down but wanted to try a tad darker shade of one sample and tad lighter of another. I'd asked to do the new samples next to the original samples and then in another room with a bigger sample to get a better view. Well, he sanded out the original samples and left me with 2 new stains that are pretty darn dark!! I had taken pix of the original samples (3 of them though were just to show me the base colors).
I will have a dark island and cabinetry by the kitchen eat-in area, and the perimeter cabinets in the kitchen area will be a lighter glazed maple. The samples in the pix are close. Note I'm doing my ENTIRE first floor so selection is important! It's approx 1700 sq ft of wood.
I am going to include the first set of stains in the first post -- I was leaning towards the sample in the upper right, but was concerned it was a touch too light. (I'm looking for a medium to dark stain color, trying to avoid red tones, looking for brown tones).
Shoot - I didn't realize they'd be in separate posts, but please take a look at the 2 other posts which have 2 pics of the new samples (which are supposed to be only a "touch" darker than the upper right sample and touch lighter than lower right).
How am I going to get this right with them! They start staining tomorrow! Thanks!!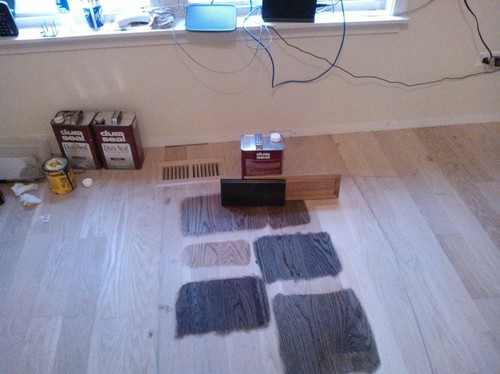 This post was edited by seosmp on Wed, May 29, 13 at 18:34