Island Placement - Value of Space
Hi, first post, great resource here. This is the drawing layout we are going with. One possible change, the Fridge and pantry cabinets can move to the right up to 2 feet, making that 103" dimension move up to 120 +" . Sounds like an obvious thing, but it would require breaking through to the laundry room behind it and pushing back two feet. I support beam might be needed. The question to the community is what is the value of that two feet, actually about 12 Sq. Ft .
The island placement is the only thing in question. I took it out of this drawing for this conversation, but it is a 2 x 4 island running vertical in the 134 inch space, leaving ample space between the sink counter and the fridge pantry. I've given my contractor option of an L shaped running horizontal to the cooktop, and turning into the open space. The horizontal run can only be about 32 inches to leave 36 inches for the pantry.
Pushing that frige and pantry back sure opens things up. My basic triangle gets screwed up putting the Island in the way of the fridge and sink. I drew up that L shaped one with a prep sink close to the fridge, all based on the great forum posts here:)
Any comments ? BTW - on order is Thermador package including Induction Cooktop, 3 way wall oven, Built In frige, Dishwasher, and real nice Hood.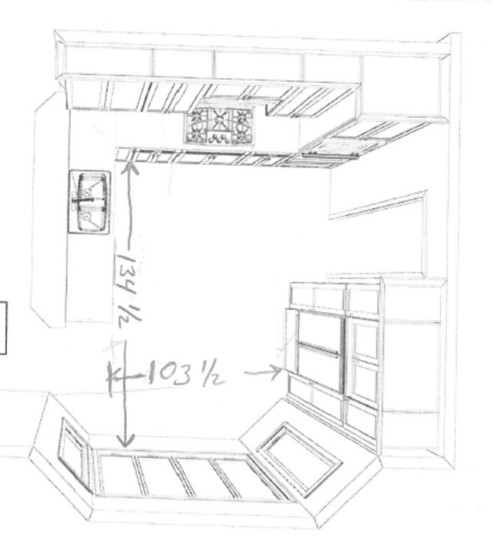 This post was edited by kheflw on Mon, May 20, 13 at 18:28