Need Help Finalizing Kitchen Layout & Design
We need to get our finalized kitchen layout to our builder this week. I would appreciate any and all help & feedback, as I'm new to all of this and want to be sure I get the kitchen right (this is hopefully the "forever home").
The latest layout had a 36" range, but I fell in love with the 48" bluestar. My builder thinks we can put it on the wall, and still keep my 30", 3 deep drawers on either side (the pen marks). There is a blind corner pull out shelf unit (really don't want it, but he says nothing else can be done).
The other changes I am considering, are moving microwave to island as a microwave drawer, and making the "drink station" cabs 24's with glass fronts and then a row of spice drawers below. The micro drawer would be on same side as prep sink, but on right corner of island. I would also then remove my prep "sitting area" and instead put more drawers.
Our cabs are Merrillat Cherry with Paprika stain. The initial designer thought doing the island & range hood cover in Kona would look nice, but now I'm considering only keeping the island in Kona. I dont want the kitchen to be dark, so I am going against her suggestion of black perimeter counters in lieu of a lighter quartz or granite.
Please share any and all thoughts and suggestions, especially on drawer size, placement, etc. and also on kitchen color scheme.
Layout: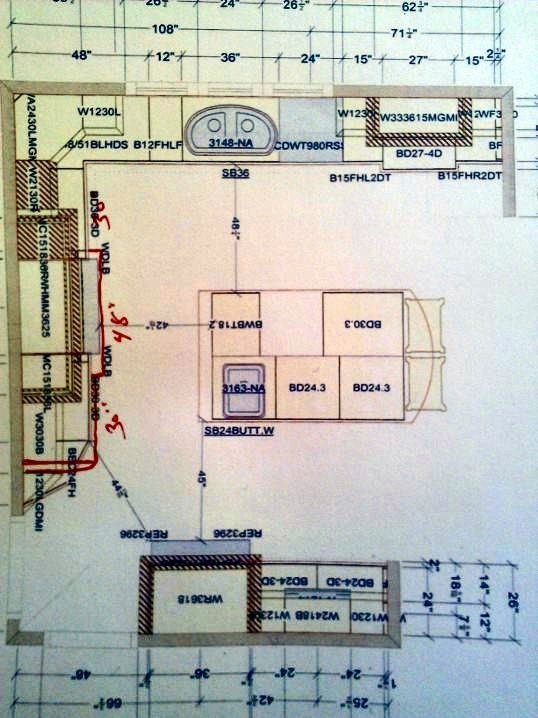 Renderings: