Second guessing myself... Granite will be fabricated next week!
frugalnotstingy
May 22, 2013
Hello again!
My initial decision for my countertop was to keep the peninsula & make it just one level as opposed to the original bi-level. I have the perfect triangle right now for my work area & I thought I didn't have the space to put an island in anyways.
I've been reading a lot about how a peninsula is out dated & that had me second guessing myself.
Can anyone give me an opinion whether I have the space for an island without making the kitchen too cramped?
It is 4.5 ft from the corner of the peninsula to the wall across it & it is 8.5 feet from the sink to the opposite side.
The picture was taken from the family room and the door that you see there leads out to the deck.
Any input would be greatly appreciated!
I am keeping the cabinets - but what to do with them is another topic altogether. :-)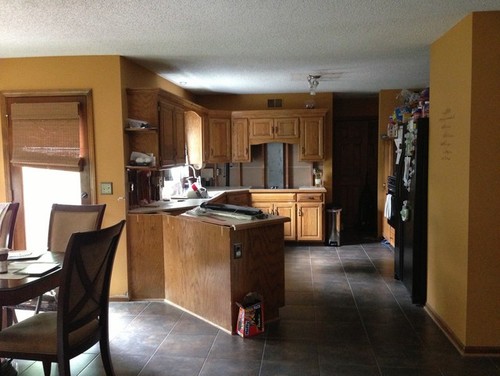 This post was edited by frugalnotstingy on Wed, May 22, 13 at 18:23