Please help me pull this pulled from dumpsters' bedroom together
I have never gotten around to decorating my bedroom. The rest of the house was more a priority until now. The only thing purchased new is the mattress and boxspring. Although nothing was literally pulled from a dumpster everything was either my Dh's bachelor furniture, family castoffs or tagsale finds. I just found a grey velvet headboard for under $100 and I want to make the room around it. The main problem is that my husband loves his pine "wardrobe"(huge armoire), dressers and nightstand and as they are the only furniture he shipped across the pond when relocating to the US from the UK, I will let him keep them:). He is open to me refinishing the finish :).
The walls are putty, the furniture yellowish pine and the floors yellowish heart pine. I would love ideas for wall color, bedding , rugs, art and thoughts on gelstaining the furniture. The room has a small loveseat but I have a caned chaise I might be using instead and I will need to choose fabric to make a cushion with if I use that. Thanks
Here is a before of the room with a door used as a headboard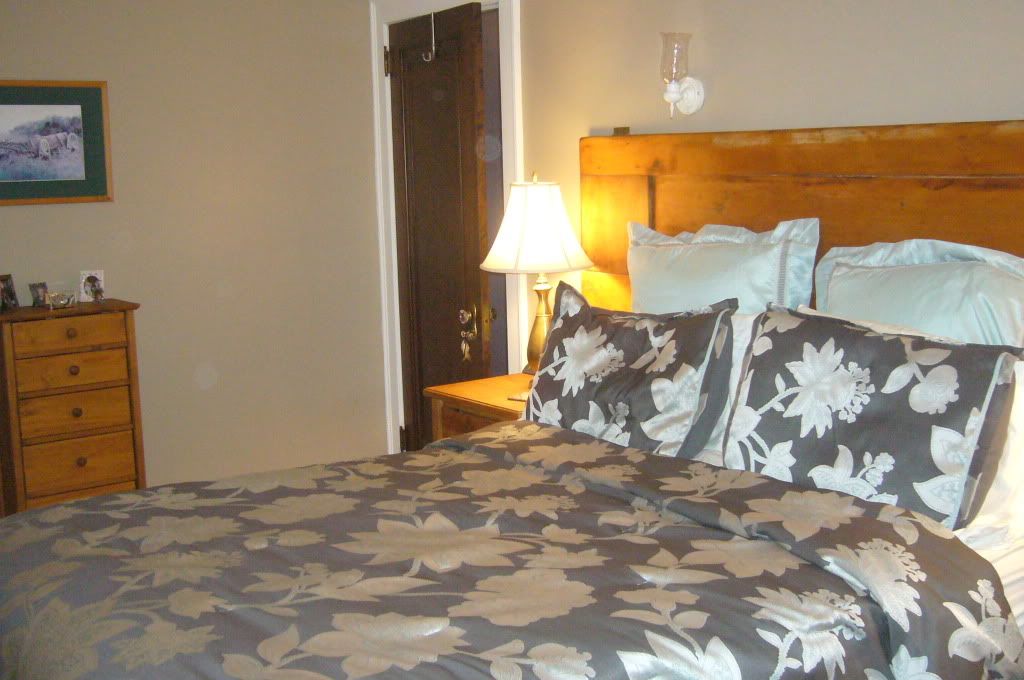 This is the new headboard and I just stripped the paint from 1920s' brass sconces.

Here is the massive "wardrobe" there is a matching small dresser and pine mirror on the same wall.