Traditional/Modern living room -- I need help mixing the two!
So some of you may remember I posted a while back trying to get ideas of color combos that would work with my west elm "otter" color sofa
One of the color combos that I really liked was the gray/yellow combo since I have a lot of blues/grays in the rest of my home. So while shopping on craigslist I came across two Lane Wingback recliners in a tone-on-tone diamond pattern, in a butter yellow color, with small specks of gray and orange (from just a few feet away you cannot see the specks, just the tone on tone of the butter yellow) sorta like a jaquard print.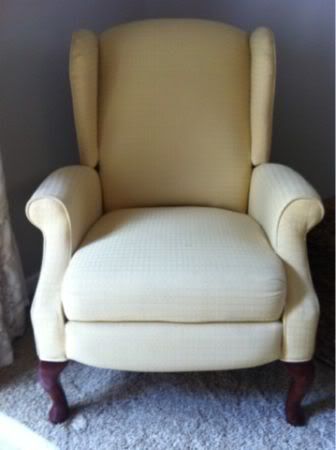 The chairs are perfect in their overall footprint for what I wanted/need for the space, but now I am not sure if the will work with the sofa to create the space. If I had the $$ I would not hesitate to have chairs reupholstered in a more modern fabric. In my mind I have no problems mixing other designs (ie contemporary and vintage) but for some reason this is really stumping me. I just hope I did not get so excited for a bargain on these chairs--only to not have them work. :( No other items for my living room have been chosen (still need rugs, pillows, end table, coffee table, art/ wall decor, etc). Room notes. This is a 1957 ranch home. The living room is the only "living" space-- no separate den/tv/family room. The one large picture window has natural bamboo blinds and white floor length curtains.
Any suggestions would be appreciated-- TIA!