Opinions Please: Mahogany Dressers w/ RH Cherry Bed
pricklypearcactus
September 22, 2012
I recently purchased a used set of vintage (I think 1950s) traditional mahogany dressers. I need to buy a bed and would love to have your opinions on mixing the vintage dressers with a Restoration Hardware Marston Cherry Sleigh Bed.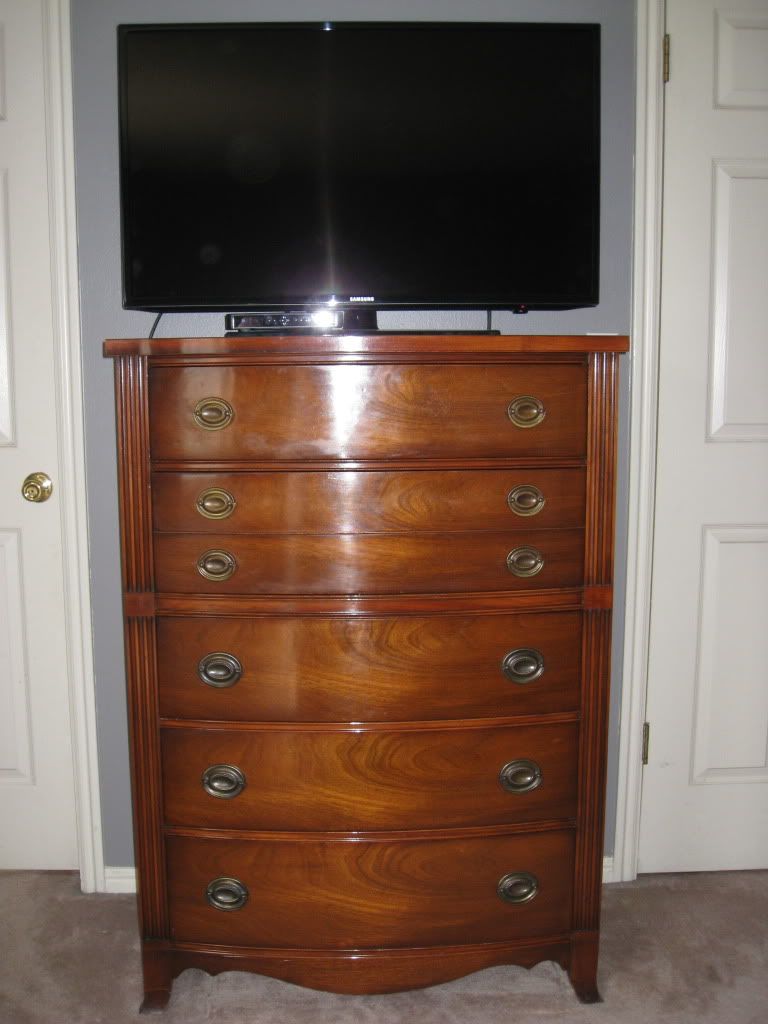 There is one tall dresser and one wide one with a mirror. Only the tall one is in the bedroom so far, but we'll be moving the wide one in soon as well. Unfortunately the bed that came with the set ended up being a full rather than a queen so I have been looking for a bed. I want a bed frame with legs and a headboard and I have found just a few that I really like. I want an actual frame and headboard as I strongly dislike bed skirts (which we have now) and I like legs to raise the bed off the floor at least a little. My significant other unfortunately dislikes any of the upholstered beds I've seen. We both really like the Restoration Hardware Marston Cherry Sleigh Bed and it is on final sale. Unfortunately they do not have any swatches available anymore, so I would be taking a risk whether the dressers will work with the bed. I have long wanted this bed, but until now have been reluctant to pay full price. I love cherry in a dark stain, as I also love mahogany in a dark stain. I think I saw the Marston collection in Restoration Hardware years ago and loved it, but since then our local RH has replaced all furniture with the new styles so I can't go see it and bring a dresser drawer for comparison.
In general, I like transitional, traditional, and contemporary. My significant other seems to prefer traditional and strongly prefers wood to upholstery. His "eww" response to any of the upholstered beds I liked pretty much sealed the deal that a wood bed will make both of us most happy. I love the idea of mixing the bedroom furniture rather than having a complete matching set, although it is important to me that they work together and don't clash. Our house has a mixture of mahogany, walnut, and maybe some cherry furniture pieces, many vintage or antiques. (Thanks to GW for the inspiration to buy local used furniture.) The bedroom has off-white trim, off-white painted fireplace mantle, and gray-blue walls (Behr Wet Cement). The color is a little darker than it appears in the background of the dresser picture. I have an off-white and black India Ink Anthropologie duvet cover. I would like the bedroom to be a mixture of dark wood against the gray-blue walls and off-white trim.
What do you think? Can I mix the vintage traditional mahogany dressers with the RH Marston sleigh bed in dark cherry?