Privacy and Other Issues
grlwprls
September 7, 2012
I think everyone has heard that we moved into a 1920's house in AR, handling the entire transaction while living out of state. Oddly, no one mentioned this house to us so imagine our surprise when we pulled up with our moving truck. And imagine more surprise when we realized how big and how close this house was going to end up being and how out of scale with our house.
When we put our offer in on this house, it had a lovely garden with three established trees along the far fence line and a black aluminum fence. The garden, and its somewhat carefree maintenance was one of the big selling features to us.
Fast forward to moving in and discovering almost immediately that one of our trees was encroaching on the new build. Two tree companies came out and both said that because the prior owner of my house hadn't kept the tree trimmed properly on our side and it was so far over the property line on the other side, that by the time they thinned the canopy we would have a trunk that might not survive. So out came that tree.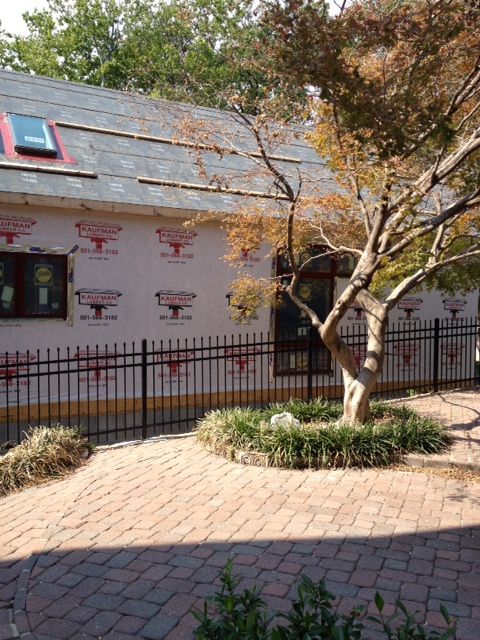 So now our garden is a little out of sorts and the middle maple has really been stressed this summer with its new sun exposure.
For us, we have a huge issue of privacy. When we linger in our garden now, we have a huge hole along the fence, and the neighbors' new windows from their living area give us a very "gorillas at the zoo" feeling.
The neighbors cannot landscape because their house is literally right at the 4' setback. So, landscaping is going to fall to me. Part of me wants to just jack my side fence up to 6 ft (it's 4' now) and put privacy mesh on it. Then, plant troughs of camellias so that only *I* get to enjoy my high dollar landscaping. I know that doesn't seem very neighborly, but they put every plumbing vent, their gas meter, and their AC units right against my garden. In the case of their AC units, I half suspect that their position is in violation of the set back.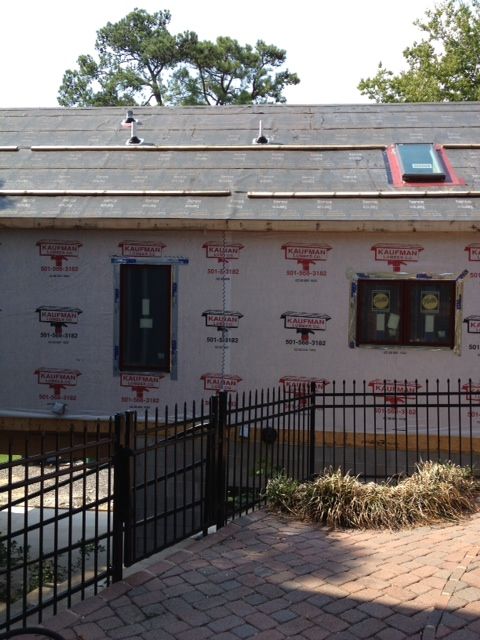 Granted, I have to landscape all the way down the property line, but the lower garden can just be cheap hollies or some such thing. We're going to have to rework our beds and hardscape to gain back some privacy in our upper garden.
Is it horrible to do a privacy mesh thing? Or maybe I should do a wooden fence? Would that be nicer? It won't match my front fence or rear fence. They have a large, odd shaped casement window set up that looks right into the seating area of my garden.
What would you do if you had a house built nearly on top of you? We've already had to redo all our window treatments - and then keep them closed all the time! - because their windows look directly into ours. And our back deck? Prime viewing from their kids' bedrooms. Argh. So much for my idyllic park like grounds!
Ugh. I sound bitter, don't I? I just hope it looks better when finished than it appears to look now. The entire house has awful proportions and completely lacks symmetry - but only in a "why is that window 6 inches over?" sort of way. It looks accidental rather than purposeful.
So anyway. The fence. Go with a higher version than my current 4 ft. black aluminum with mesh or go with a totally different fence along our shared property line?