close coupling of boxes
ionized_gw
November 11, 2013
I want to install a new luminaire with integral junction box onto an existing junction box. Is there hardware that allows me to do this in an approved manner?
The existing box is about hockey-puck sized and mounted on the eaves of my house. Please see the pics of the existing box, with flood lamp temporarily installed, and the box of the jelly jar luminaire that I want to install.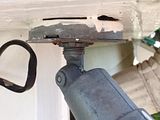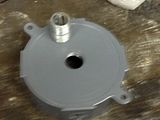 Originally, there was a jelly jar luminaire with a two-pin CF lamp and ballast in it. It did not function, lamps are expensive and since it is somewhat obsolete, I decided to just remove it. I temporarily installed the flood socket with that plate since it was sitting in a bin in the garage. Now, I've found a couple of new jelly jar luminaires at close-out prices. (The other will replace an identical, old jelly jar luminaire that was installed without a junction box :-( I started that project and associated painting last weekend.)
I want to keep the hockey-puck junction box because the cable comes into it on the top near the circumference. The cable is too short to reach the middle of the new jelly jar luminaire box. In addition, because of the way the eaves are shaped, an offset from the surface to the new box is desirable for installation ease.
If I am going about this entirely wrong-headedly,and there is a better way, I would love to hear it.
Thanks for reading.
This post was edited by ionized on Mon, Nov 11, 13 at 19:28