Need help fixing/capping live wires to prevent fire
Background:
In Pennsylvania. I am a rookie at electric and normally call the electrician. That said, disconnected attic fan bc it was making noise - will need to be fixed. Disconnected the white wires from direction of another rookie. The wires are still live.
Problem
If you look at the pics below. Even to my rookie eye this does not look safe.
Questions.
How do I set this up and keep it disconnected safely to prevent fire?
-I want to cap it and secure the wires so no there is no danger.
-If you look at pic 1 the blacks are still connected as well as the ground wires.
Images of the wire set up in the attic below. (Attached the first to the post. The second pic you may have to copy and paste into browser if link will not work.)
Pic 1
https://docs.google.com/file/d/0B1Ut...it?usp=sharing
Pic 2
https://docs.google.com/file/d/0B1Ut...V28/edit?pli=1
Thank you very much in advance.
Jamie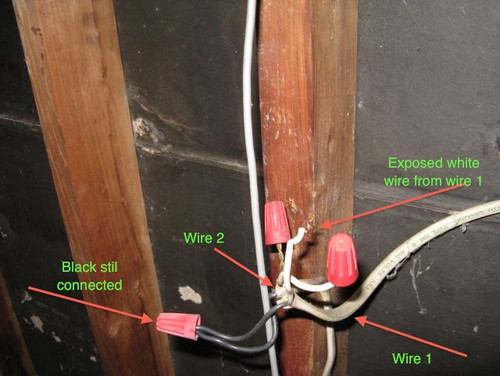 Here is a link that might be useful: pic2