Lighting input please
The kitchen/LR/DR & stairwell space in my cottage will only have hanging lighting in one location, over the kitchen peninsula, nothing over the dining room table or in the stairwell (as it would interfere with sight lines out the windows).
I had found a white oak German light I really liked, and was set to order it, but it is a bit too big. I need pendants not much more than 6-7" wide:
Then found a great Italian light (two in fact), right size, white oak again and the designer seems like a lovely man who is happy to ship it to me directly. Downside is that they won't actually give off much light (really just task lighting I expect).
Then I decided I should really make an effort to find something made closer to home, at least in North America. Virtually a bust. I do like these pendants, but they are only available in walnut. Do you think walnut is a bad choice given my white oak floors? North Americans don't seem to be working with much white oak yet.
Other possible North American options, unclear what type of wood it is: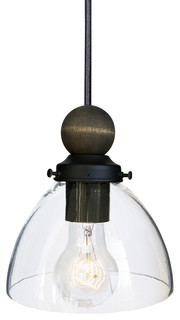 Any others suggestions/ideas?