Help my entry area (so my kitchen can be finished!)
smalloldhouse
August 3, 2014
We recently redid our small galley kitchen - the project included opening up a load-bearing wall and moving the gas and plumbing so that the kitchen would flow into an attached breakfast room. That room is actually at the front of our house (it was probably the living or dining room of the house before previous owners expanded it).
We still have a few things to do in the kitchen proper but I really need to rejigger the entry way furnishings. I want to find some kind of piece to sit just next to the front door that would have storage: at least one small drawer for charging cords and headphones; shelves for a small collection of my late mother's cookbooks; some kind of perch space for a small TV monitor or computer screen; and ideally some space to stash some shoes as well. I'm thinking perhaps a hutch? or a console table? or some kind of buffet?
The space where this piece should go is currently occupied by an old secretary desk that somehow has never been useful for housing anything except old phone books, so it will go.
View of entry from kitchen: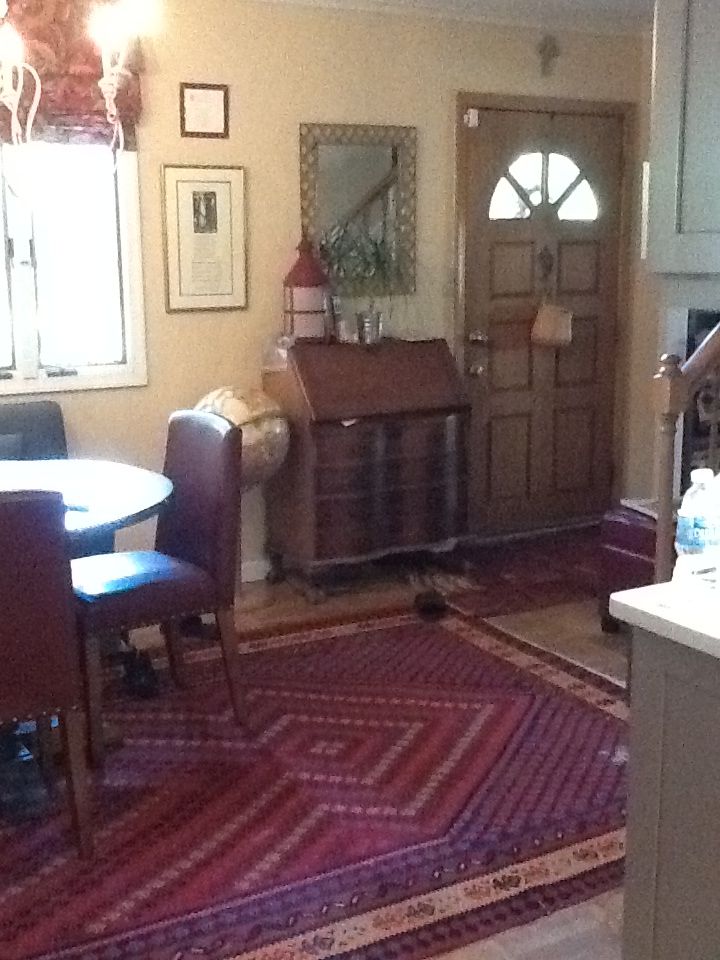 View of eat-in part of the kitchen from entry:

Right at the entry, I currently have a small bench and an etagere with baskets for shoes. Don't love either one, and they are not as useful as they should be. But what should replace them, given that the staircase is right there? (This is a pre-reno photo; the wall separating the kitchen is now gone as is the awful wooden cabinet.)
To the left as you enter is a den/playroom and office. I have a set of hooks there for kiddo backpacks and coats; adult stuff goes in a coat closet in the breakfast room. There are no hallways in this house as you'll see from our pre-kitchen reno layout.
Sorry for the long complicated description leading up to my question: I would love ideas on how to reconfigure this. Any ideas on a good storage piece for the breakfast room? And what should I put right at the entry - bench (no one sits on it)? another console table? nothing at all?
Thanks for any ideas!!