Simple plug query - I hope!
Hi,
I hope someone can help me. I don't know much about wiring and don't mess with it on the advice of my dear old dad! However, I think I have just a simple problem that I can solve myself.
I have an electrical oil radiator which I have just unplugged to put away for the summer. The heater is working fine. However, when I unplugged it, I noticed that the side of the plug was blown out and burnt. I opened the plug and the photo is attached.
Now on the side of the heater is the following information:
220v/50Hz, 1500-2000 watt
The fuse in the plug is 13amp. Having searched the net I think the fuse should be around 6amp. The plug is what was supplied with the heater from the shop but I live in Malta and a lot of things are imported from all over the place. Therefore they change the plugs here to fit our UK style sockets. Health and safety is not much of an issue here so I wouldn't be surprised if it was the wrong fuse.
As I say, the last time I used the heater a couple of weeks ago it worked fine. I didn't try it again today as once I'd seen the plug, I was too scared to!
Am I right in thinking I need to change the plug for one with a 6amp fuse? The thing is if I was in the UK, I would use 13amp without thinking about it.
I would also point out that the wiring within buildings here is shockingly bad. An electrician would have a heart attack if he saw what goes on. It could therefore be the socket and not the plug. Other sockets seem ok though with other appliances and things plugged in to the socket in question work but I'm worried to leave anything plugged in it at the moment and I need to have my fan on.
Any ideas? Thanks in advance.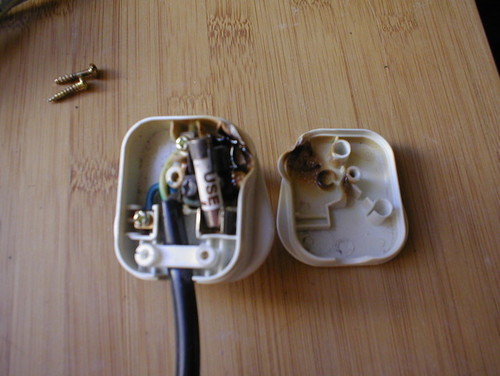 This post was edited by Jacquiec on Sun, Jun 16, 13 at 11:11