Pics of my pressed wood computer desks!
jayjay_teacher
June 27, 2008
I posted a couple of weeks ago about a problem I was having with my computer desks in my classroom. They are pressed wood covered by what I guess to be laminate. I have used these now for 4 years and the screws will not stay in. The wood around the screws is falling apart and the screws just fall out.
These are L shaped desks like you might see in an office. The arm is connected to the main part with a metal plate and 4 screws. There is a slide out keyboard tray on the main part. It does not seem to matter where the screws are, they are falling out. Below are some pictures:
This picture shows the plate that holds the 2 main parts of the desk together and also the keyboard tray. The tray is attached to the underside of the desk with one of the connector bolts. The pullout has a regular screw for the tray. You can see how the tray arm for the keyboard is tilted.
This is the underside of the desk and shows some of the connector bolts. I do not know the correct name for these bolts, but they make a right angle. The screw goes down and then you tighten them. They are not holding either. You can see by the crack they are loose.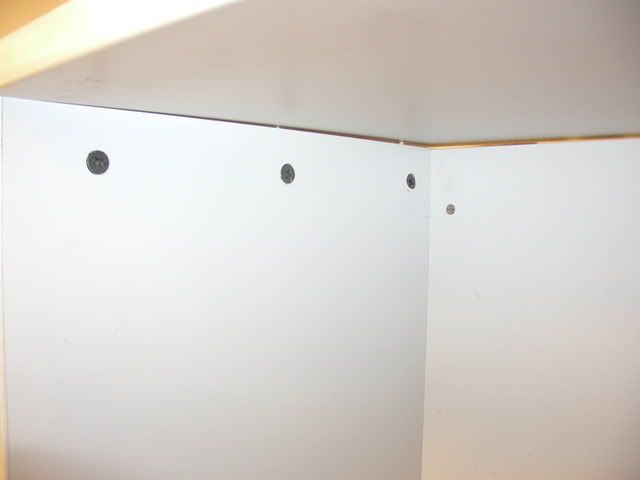 This shows the underside of the keyboard tray. It is not a very clear picture, but sometimes the tray and keyboard will fall in a student's lap.
This shows a desk that was accidently bumped by a student and because the metal plate was not attached the arm turned over and the screws splintered the wood.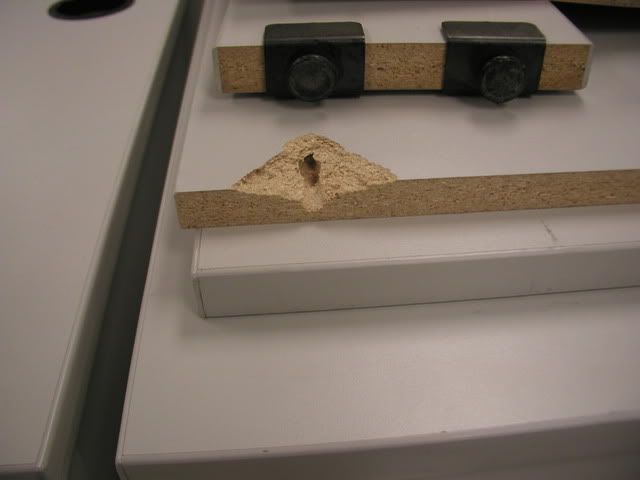 I was thinking I might just have to buy right angled braces and screw through the wood and attach a nut to the screw. I am worried the wood and laminate might splinter when I try to drill.
Any suggestions would be appreciated. It will be many years before our school district will buy new furniture and I have to make these last. Thanks is advance!