Help getting this kind of result on knotty alder cabinets
We are having knotty alder cabinets installed and finished onsite. They will be paired with white oak flooring, also finished onsite. I know it may take some creativity to get white oak to compliment a finish on alder, but we'll have the whole floor to play with. :)
I'm after a warm color, light enough that I can enjoy the alder wood underneath. I really like the finish pictured below. It's from the Schrock website, rustic alder wood with "Cider" finish. Unfortunately I have no idea what commercially available coloring would approximate their "Cider" and they do not sell just their stain.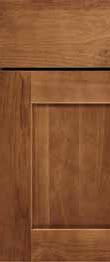 The closest I've been able to get is with Minwax Early American, but it seems a bit too orangey. The guy at SW (our builder's main supplier for stain) suggested mixing just a drop or two of Jacobean in, around a 1:7 ratio, so I picked up a can of that tonight but haven't yet had time to play with it. Tomorrow... Wea lso played with some BAC colors while there, but they all went on kind of opaque and I definitely want a transparent finish, not semi opaque.
In the meantime, I was hoping someone here might be familiar enough with knotty alder and/or the way it stains to suggest something I or my builder can get ahold of, which might give comparable results to the door pictured above.
Thanks in advance for any insights or suggestions...!