Need Advice: New Construction vs. Replacement Windows
Hi Everyone,
I'm looking for some impartial advice on a window replacement project we're working on. My wife and I are pretty confused and would appreciate any advice you can provide. Here's the story..
We live in a 18 year old house in Connecticut. We've been here seven years and intend to stay here for life. We are faced with having to replace our windows for a couple of reasons: First, more than half of the windows have significant rot/water damage to the exterior trim, sills, and drip edges. All of the exterior trim is finger-joint pine. The ends were not primed, painted, or caulked and water wicked up through the end grain and rotted them out. The most heavily damaged windows are now leaking through the stops during heavy rainfalls. Second, the current windows are incredibly inefficient. In the winter they leak so much cold air that I'm forced to cover them with the shrink-wrap window sheets to help keep the cold wind out. Third, I want to take advantage of the tax rebate before it expires. We've decided to have the work done even though it's not the best time for us financially. I don't want any more water damage than we already have, and I don't want to pass up the rebate. We are both of the mindset that if we're going to do something like this we're going to do it once and do it right.
So, we have 35 windows to replace. Our current windows are solid pine- stained on the inside, a look we want to preserve to match our existing woodwork. The windows are a mix of about half single windows and half double and triple mullion. Of the 35 windows we will need to completely replace the rotted outside trim and drip edge on 30 of them. The rotted sills will need to be replaced on about half of them. I've decided to use Azek for the trim so we don't need to worry about rot again.
We've been working with a contractor I know well and trust as an honest person. I'm a woodworker, but I have almost no experience when it comes to construction or exterior trim so I have to rely on him completely. Our contractor has been pushing us towards replacement windows and has dismissed the idea of new construction windows almost completely.
My question is this- if we're going to rip out all of the exterior trim, and there is significant damage to the sills and mullions, does it make sense to consider replacements, or should we be looking at new construction?
Here are some photos in case it helps:
Interior: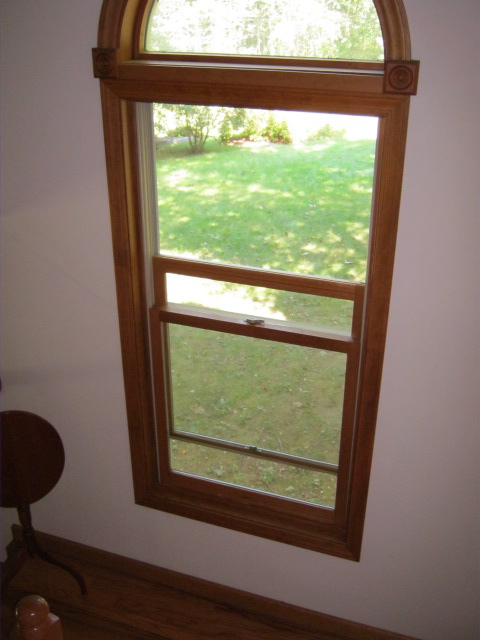 Exterior: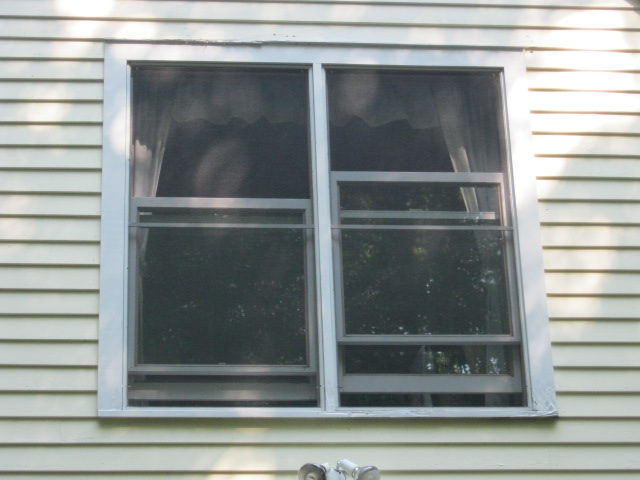 Exterior showing extent of rotted trim and sills: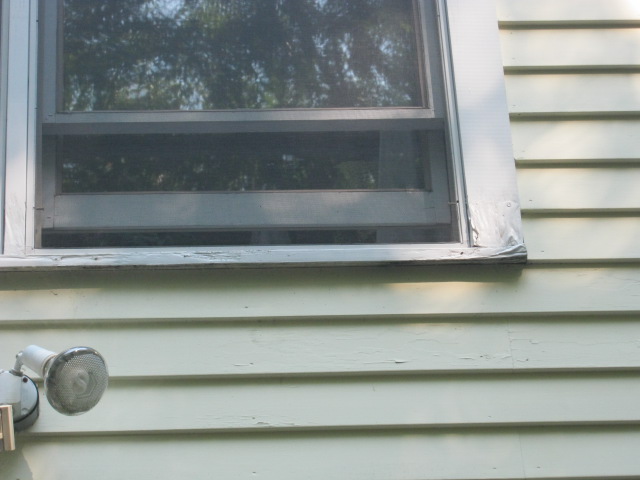 The exterior is cedar clapboard which is in good shape for the most part.