Tilt top table repair
franksmom_2010
April 4, 2011
Hi everyone! I bought this wonderful tilt-top table at an antique shop today: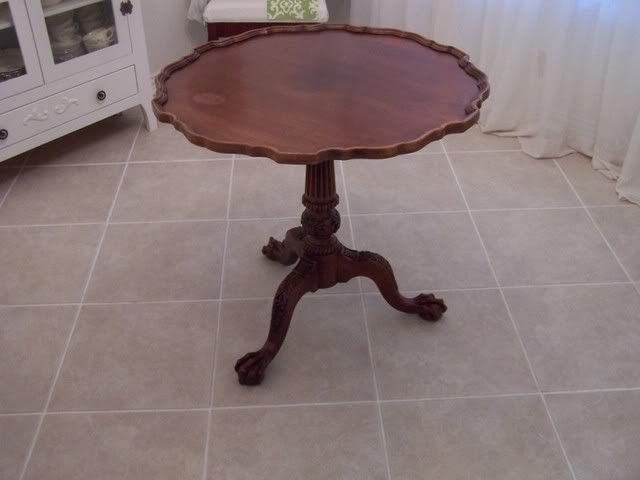 Before I bought it, I tried out the tilt mechanism, and realized that someone had screwed braces onto the top that didn't allow it to tilt. I just kind of gave it a once over, figured I'd undo them when I got it home, and paid for it. The fact that I didn't look at it more closely is totally my fault. Still love the table, though.
Got it home, turned it upside down, and here's the mess I found. One side of the top of the birdcage is broken off, and the dowel that the top hinges on is missing. Someone drilled a small screw through the birdcage and into the top to stabilize it on this side: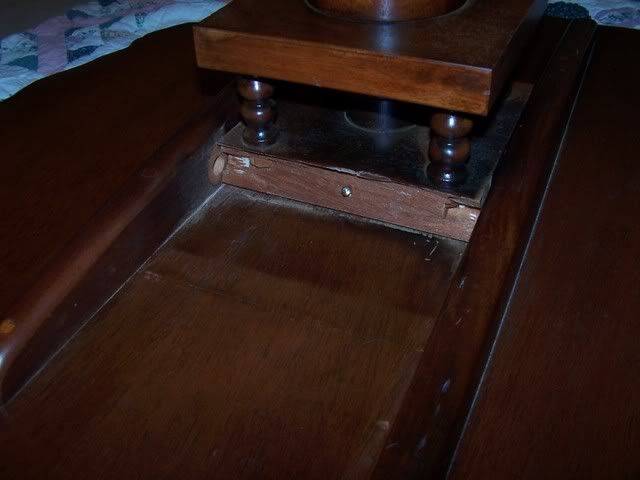 Here's the side with the original latch. They've drilled a bracket to it to stabilize this side, but they've used tiny brass screws that aren't doing much (table top still wobbles.) You can see on the left where there was another brace, but the screws have broken off at the heads one one side, and there's small splits on the top of the birdcage at the screw holes on the other side.
I'm just sick over this! It's a really lovely vintage table, and seems like it was well made. Any ideas how complicated this will be to fix? I'd think you'd need to remove the birdcage from the pedestal, take it apart, and replace the top piece, then re-assemble it with a dowel. Is this going to be a huge, expensive repair, or am I looking at less than $100?
If a proper repair is going to be cost prohibitive, is there another way to stabilize the table top without causing much more damage?
The table top has a small area of wear to the finish, and the edges are losing their finish, so I assumed I'd have to refinish the top, I just didn't think I'd have to rework all of this!