Window Header Replacement
For quite some time, we've been planning to replace a bathroom window. Our original window was 11 1/2" x 48". We wanted to make a larger opening but decided to stick with the same size in order to avoid moving the header and disturbing the stucco. Our original window was aluminum. We were aware that we would lose glass by replacing with a vinyl window but nothing prepared us for how much glass would actually be lost. We went with a retrofit Simonton 7300 Daylight Max because it has a slimmer frame than the Milgard Tuscany. We were aware that slimmer frame = more glass. In the original window, the glass measured 8" tall. In the new window, it was only 4"! We tried the window in the opening and found that it cut out about 50% of the light compared to what we had before. We were disappointed and decided not to use it.
We finally came up with the money to order another window. This time we ordered an 18" tall retrofit window and planned to move the header up.
The first one we ordered (bottom) and the 18" window (top.)

I'm afraid we've made another costly mistake. I know you guys are going to yell at me for being so stupid. The new window seems to be several inches too tall to fit. I have a sinking feeling that there's no way to make this work without severely compromising the structural integrity of our house.
Here is a photo of the header: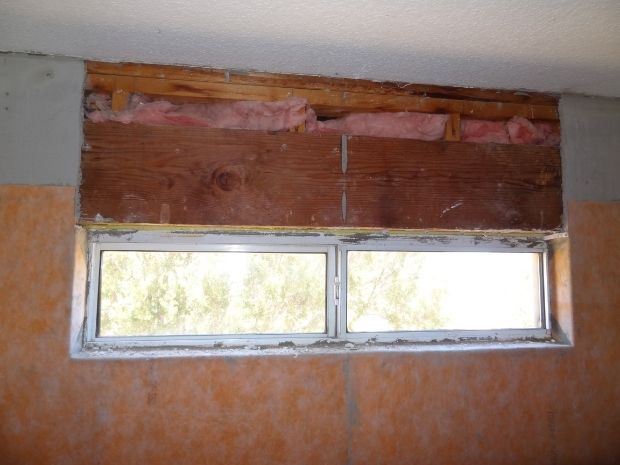 and one of the exterior:
The wall is non load-bearing, correct?
We need the new window to be installed higher, not lower than the old one because it's in the shower and we don't want water spraying all over the window. Also, it's clear glass and privacy would be an issue if it's installed lower.
Can we cut out the cripple studs and attach a smaller header directly to the 2 x 4's above the window? How tall does the header need to be to retain proper strength? My husband isn't sure if the header stops at the sides of the window or if it is longer than the window. Can anyone advise on how to proceed? Thank you.