Another question re: mixing painted and stained trim
spitfire_01
August 8, 2008
Our home was built in the late-1970Âs complete with a (fake) paneled den. The trim in this room is stained wood. All other trim in the house is white. While the baseboards, door trim, and window casings arenÂt anything special, the crown molding and mantel have a nice dental detail. So far, weÂve balked at painting the crown and mantel. (This is also the reason we havenÂt ripped off the paneling and installed drywall. WeÂre afraid that a construction crew would ruin the crown molding, but we donÂt have time to do this ourselves.) The previous owners installed a chair rail and painted the upper paneled walls. They tried to stain the chair rail to match the rest of the trim, but needless to say, it isnÂt an exact match. Now we have:
Wood Tone 1 Â crown molding, mantel, baseboards, door frames, window casings
Wood Tone 2 Â chair rail
Wood Tone 3 Â remaining paneling
Wood Tone 4 Â faux-painted doors in a matte finish (very ugly)
Wood Tone 5 Â hardwood floors
Plus various pieces of wood furniture.
This room feels like a jumble of wood grains and dark colors. After seeing several posts here showing dark, painted trim, I might have a solution to my conflicting wood tones.
What if I painted the paneling and doors in a glossy black or dark brown? Should I also paint the chair rail since it doesnÂt match any of the other trim?
The baseboards and door trim are starting to look shabby with lots of scratches and scuffs. Would it look weird to paint the door, window, and base trim leaving only the mantel and crown in the original stain?
I picked up some paint chips yesterday, but I realized that I canÂt select a paint color until I decide how much to paint. If I only paint the doors and paneling (and possibly the chair rail), I will use a shade with some contrast to the other trim. Something that looks much richer and darker on purpose. If I decide to paint all the trim except the crown and mantel, I should probably try to stay close to the color of the crown.
Here are a few photos: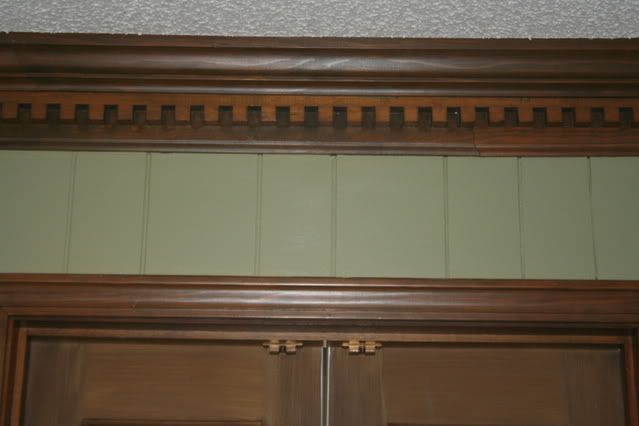 If we did paint the lower portion of the walls, I might talk DH into painting the top portion the same color as our foyer or one shade darker.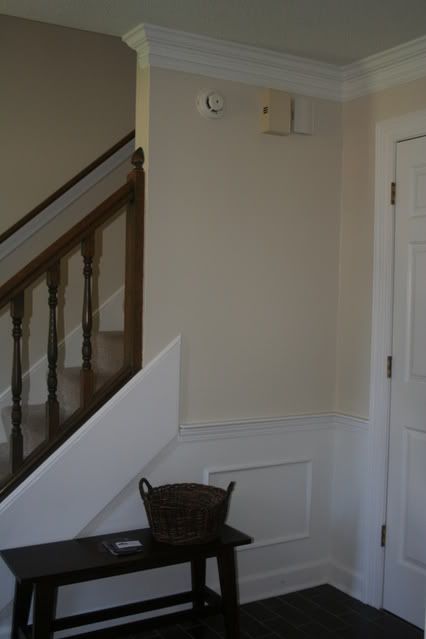 Any thoughts? Advice? Am I trying to put lipstick on a pig?
Thanks
Nin