Matching old oak stair parts to new. Please help.
weehavengarden
February 16, 2013
First of all THANK YOU all for any advice you can offer!
We have a 25 year old stairway (please see photo) that has an open skirt, risers, and treads all in oak one side. This is followed by plywood for carpeting. The plywood then abuts a white wall skirt board.
I would like the stairway to look more balanced. So I am planning to attach oak plywood to the white wall skirt board and also trim it in oak so that it will look more like a wood stairway with a runner. Then I will add new carpeting over the plywood.
The question is how do I get the two sides of oak to match in color? I think the original oak was polyurethaned, not stained--but I am not sure.
Should I remove the polyurethane and reapply a new coat to both sides? Should I remove the polyurethane and re-stain both sides the same color? I would like to go a little darker and less honey/orange color of possible.
Should I just try to match the existing color? How do I do that?
If I should remove the urethane and reapply it or re-stain, what is the best way to go about it? Please be specific because I am new at this.
Please help. We have to do all the work ourselves and can't afford a new stairway.
THANK YOU.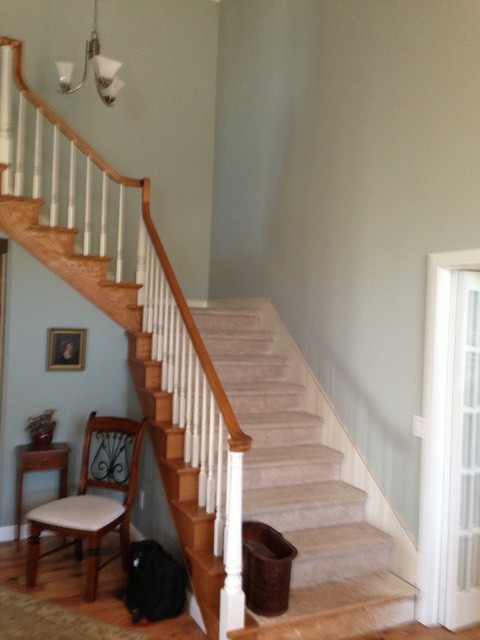 This post was edited by weehavengarden on Sat, Feb 16, 13 at 18:25