'Prayer Altar'
This piece has had very personal significance to me during the process... I hope this explanation of the piece will not offend anyone, that is not my intent in the least! I just wanted to share the very personal experience I had while making this piece.
I will attempt to explain how it "spoke" to me as I was making it: (Just grouted, not cleaned)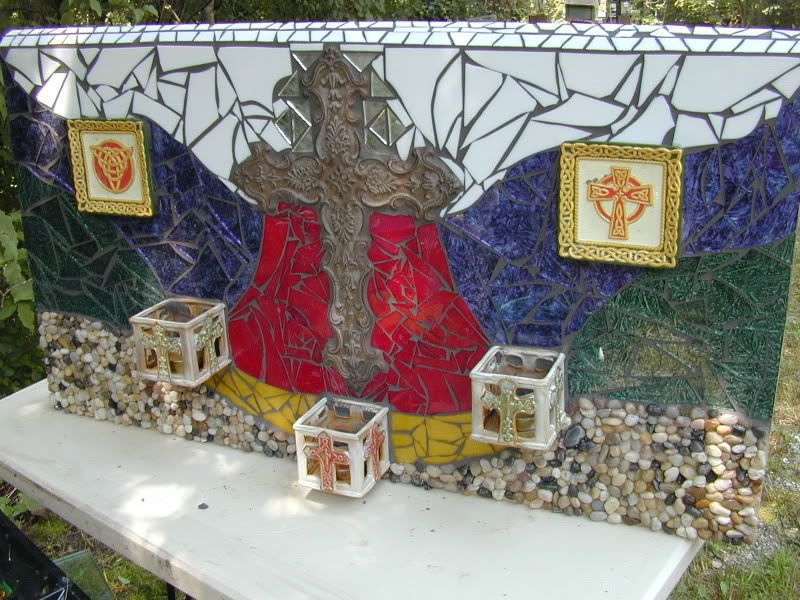 Starting from the bottom:
The pebbles are representative of the earth, it is a reminder that Christ came into the world and lived, suffered, and died, living life as we do, yet without sin, becoming our example. Touching the pebbles, feeling their rough texture is a reminder that although life is often not smooth or easy, we are not alone. The yellow band of glass is reminiscent of the gold used to adorn the garments of the High Priest, reminding us that Christ is our High Priest, making intercession for us with the Father. The green glass is a reminder of the newness of life, as in the returning vegetation in the spring, reminding us that Christ arose that we also might have life through Him. The blue/purple glass, the colour of royalty, is a reminder that he is our King and Lord of our lives. The red glass represents the blood of Christ, shed for the forgiveness of sin. The cross represents the manner in which He gave His life for the sins of the world. The mirror pieces around the top of the cross remind us that our lives are to reflect Christ in all that we do. It also reminds me of the many times my life fails to do so. The white, the colour of purity, reminds us that He is the spotless Lamb of God. The Celtic pieces on either side remind us that our lives are intertwined, everything we do, everything we say affects someone else, whether in a positive or negative way, traditionally the Celtic knot represents timelessness, without beginning or end, eternal. The three candle holders represent the Holy Trinity, Father, Son, and Holy Spirit. The small white pieces at the top edge remind us of that great cloud of witnesses gone on before us, that surround us in the spirit. I chose the shattered glass as a reminder that no life is broken beyond God's ability to put it back together and use it for His glory.