Why Did this Window Break?
Am I wrong?
This is a newly installed 2nd story Pella window that faces east in a newly constructed house situated at 8,300' in Colorado with a view that stretches far out over the plains (this is relevant.. I'm not just waxing poetic). We discovered this window had broken a few mornings ago, quite possibly the first morning that we'd had the blind--which is built into the window--closed against the morning sun. My theory is that the gas in the window was never equalized and the heat from the morning sun, that much greater because the blind was drawn behind it, increased the pressure between the panes such that the exterior pane broke.
In support of this theory:
1. An identical window of the same dimensions nearby exhibits a significantly bowed profile such that a straight edge rocks when placed against the window.
2. The glass has been pushed outward from the window, rather than being pushed inward by an external force. Zoom in close on this image and you'll see the edges protruding.
3. Without rock-throwing kids nearby, the only external factor that could have caused this break that I can think of is a bird flying into it. Sadly, this has happened on a handful of occasions in the distant past (this house replaces another that was burned in a forest fire), where the impacts have been startlingly loud, but they have never resulted in a broken window.
Does this sound plausible? Has anyone seen this happen before? Pella may argue that it was a bird or something, but I really don't think so. And if it was pressure, I need to have other windows equalized before they suffer the same fate.
Thanks for any ideas you may have.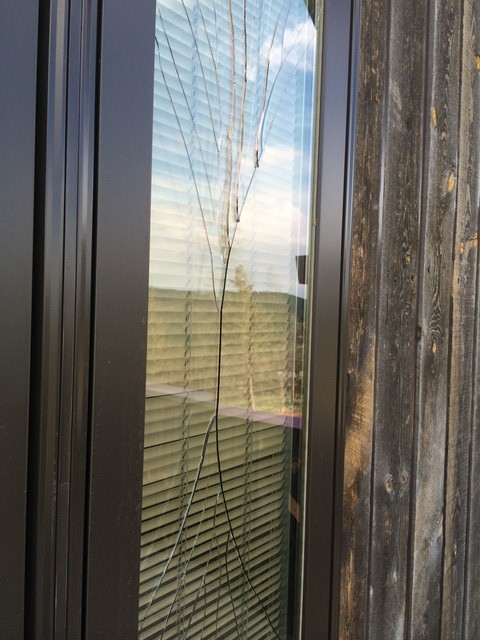 This post was edited by Busterlode on Wed, Jun 11, 14 at 19:07