You Want Me on This Wall
While working out in the yard the other day I was struck with the idea to mosaic the front wall in my yard. It looks like a manageable project to me although I may be a bit delusional... LOL
Before I start, I want to thank Betty for her encouragement and also for the amazing pictures she posts of her work which totally blows me away and provides me with endless possibilities and tons of inspiration!
I decided to name my project. "You Want Me On This Wall". It's a joke in my house, everyone always wants me to take care of things, but they get cranky with me when I do.... Remember the movie with Jack Nickleson, A Few Good Men? I'm him.
So my first thought is How to Proceed?! I've been sketching and am thinking I might do sections, with themes in each section... OR do I have a main something floating through the whole thing to hold it together. I like the idea of some sort of border. But to be honest I like freeform work and my borders would not be the same all the way around. So no decision yet.
I am going to do the Push and Squish Method. And I am going to use bits of everything.
My second thought is, the wall is full of dirt, so today the Hub power washed it. (see pics)
My third issue is... as I was mulching today, I hurt my back! Ouch! So now I've got some time on my hands to doodle a bit more and dream about the wall.
I think I included a link for you to see more pictures in my Photobucket file.
Feedback is Welcome.
mfbpa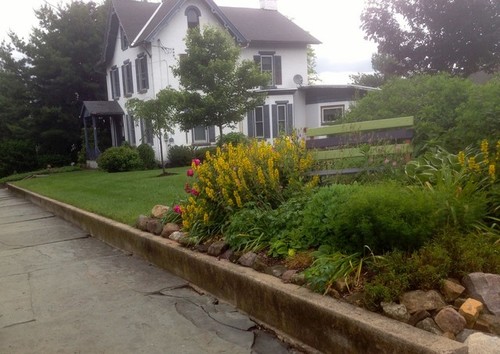 Here is a link that might be useful: You want me on this wall