Paint or Stain? Fill Holes or Leave as Is?
I am refinishing/repurposing this old work bench in to a desk/work table for my office/craft/homeschool room. It's going to house a computer full time, a sewing machine part time and the rest will be available for writing/book work. I will likely find a cool desk pad for the writing area so that they divets in the wood don't cause problems with tearing papers but it likely won't be very large.
My original plan was to paint the whole thing white with chalk paint, distress and wax but now I'm having second thoughts.
I spent 3 hours yesterday sanding the top to remove years of paint drips and blobs of old epoxy/glue and even though I do have a little more sanding to do, I am getting close enough to make a final decision on the finish.
After I sanded, I washed it all down and was really impressed with how the wood top looked against the white (not yet distressed) base so I got to thinking about staining the top only instead.
The problem/question is the number of holes that were drilled in the top over the years during its former life. I like the character of the smaller ones but there are three sets of large holes that I sort of feel are too much. They are not random and are perfect circles (drill holes), quite large and I'm questioning if they add character or simply look tacky.
IF I paint the top, I no doubt will fill the large holes. If I stain, however, I know that the fill will show. I've spent a long time on wood working forums and realize that filled holes, especially that large, always show through the stain. How much they show, whether they are barely noticeable or stick out like cheetah spots, depends on a lot of things and isn't totally predictable.
From a aesthetic point of view, given that I WANT a rustic repurposed look would you fill and paint the top? Fill and stain and hope that they don't stand out too bad? Leave them and stain and just deal with the added "character"?
I will also post the pix in the woodworking forum and see if there is additional advice on making them blend in should I decide to fill and stain, but for now I'm looking for opinions on the appearance/feel of the piece.
The room has wood floors made to look like wide plank barn wood. They came out pretty good, complete with old square black nails I put in after staining for effect. The only downside to the floor is the color didn't come out quite like I wanted and has a funky taupe/almost but not quite green cast to it. I was going for a weathered gray but the combo of the natural wood color and the yellowish tint of the varnish gave it a different shade that I was hoping for. To me, this makes lighter woods, or any wood with a really warm tone such as oak, look terrible in there. The only wood color that I think looks ok is darker, browner tones.
I only mention that because as pretty as the natural color it is now is, I would not go with that color of stain in that room, it would not be complimented by the cooler toned floors.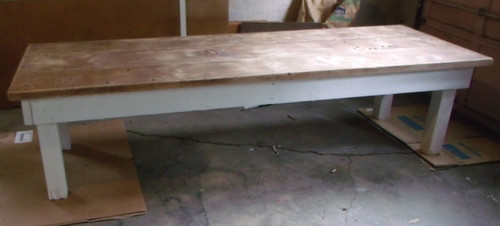 This post was edited by beth0301 on Sat, Aug 9, 14 at 10:57