Design question for replacing windows in brick veneer house!
Ok maybe you all can help me with a design question.
We are replacing "all" of the windows in our brick ranch/rambler located on the water to increase their efficiency and the views.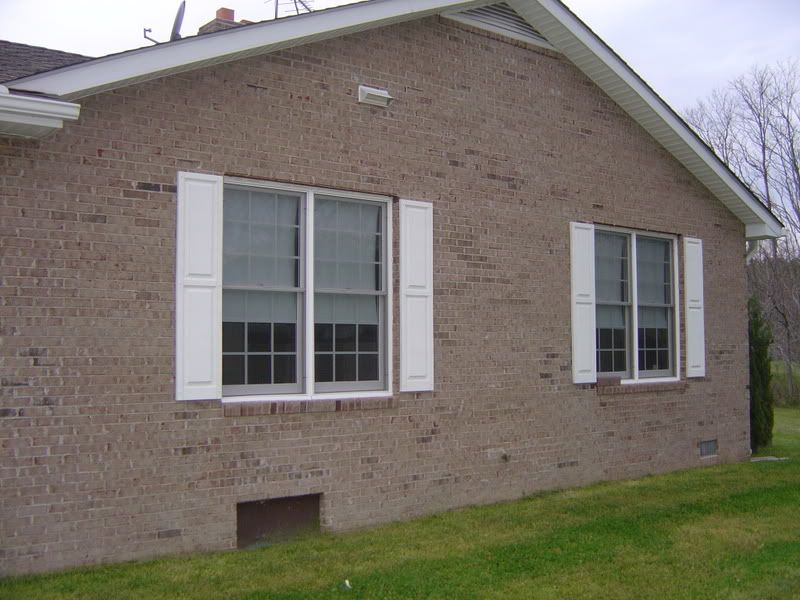 The kitchen windows are on the left side of this photo. The windows to the right are in an adjoining room and will be doubled to 4 windows.
In the kitchen (gable end of the L-shaped house) we are removing (2) 5ft by 3 ft. windows and replacing them with 3 windows (casements 3 ft. tall by 9 feet wide, one fixed and 2 operating). The problem is that when we replace these particular windows they have to come up because we are putting cabinets on that wall in the interior where there was just blank wall before, there will be open space where the windows once were. ie no brick up that high on the exterior.
We debated on trying to tooth back in the brick etc. and decided that cost wise it would be easier to just "box" out the area and put the new windows in.
Now the problem... we don't want it to look like we just slapped this box onto the exterior of the house and the contractor is calling for only a 3 inch extension from the existing brick. That sounds shallow to me, but if we go too deep then I'll never be able to reach the casements over the sink in the kitchen either.
So tonight we came across a design online that had just panels below the windows (maybe Azek) built right in flush with the siding. It looked nice, but it wasn't in a brick home.
FYI we were going to box the kitchen and the family room windows but then decided against it because the windows would be close to one another so we couldn't decide if one big box bay would work, and if we did 2 boxes they would be different because of the varying heights of the windows so we weren't sure it would look good.
What do you all think? Should we box it out, not a true box bay, but similar? Put the panels in and hope it doesn't look cheap?!
If anyone has a bulldozer and wants to rebuild my house for the cost of renovating please please please let me know. I think it would be easier, cheaper and faster, and certainly a lot less stress!
Thanks for your help! Kat